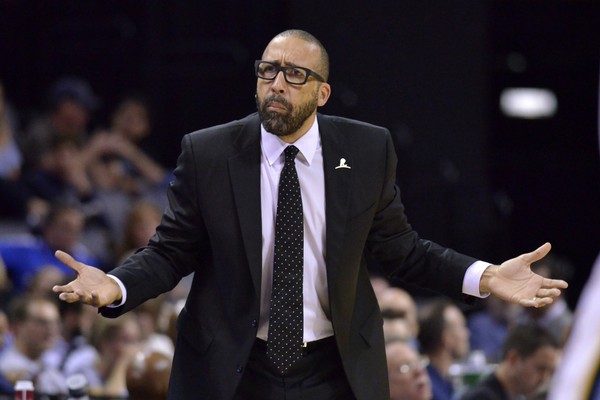 Though David Fizdale didn't even last a season-and-a-half in his first head-coaching gig, it doesn't sound like he'll remain unemployed for the long.
Most recognize his fit with the Memphis Grizzlies just wasn't right. He apparently never got along with franchise cornerstone Marc Gasol, and whereas it seemed like he may be more open to a youth-oriented movement, the franchise is very clearly married to the idea of making a run with both Gasol and Mike Conley in the near future.
Whatever the case, the details surrounding Fizdale's exit from Memphis hasn't soured the rest of the league's view. According to Sporting News' Mitch Lawrence, in fact, the Phoenix Suns are already eyeing him to be their next head coach:
Phoenix is targeting former Memphis coach Dave Fizdale to replace interim coach Jay Triano, according to league sources. When Fizdale was the lead assistant to Eric Spoelstra in Miami during the LeBron Era, James Jones was on the Heat roster. Jones has been the Suns' vice president of basketball operations since last July.

The Suns could have some strong competition for Fizdale, though — sources report that he has his eye on the Lakers job, and the feeling is that his strong ties to James can help the Lakers land LeBron when free agency opens on July 1.
This Lakers tidbit is weird. The Suns' one is not. They seem ready-made for someone like Fizdale—a potential upstart with a discernible cornerstone, in Devin Booker, and a wealth of promising talent around him. They're ripe for the coaching, as opposed to a veteran-heavy outfit that's more set in its ways. Fizdale wouldn't face as much resistance trying to reinvent their shot profile or switch up their defensive system.
But the Suns won't be alone in their purported interest. If the Milwaukee Bucks truly believe they're a head-coaching upgrade away from reaching the next level, you better believe they'll interview Fizdale over the summer. And with a top-five superstar, in Giannis Antetokounmpo, on the roster, any interest they show in him may portend a deathblow for Phoenix's apparent infatuation.