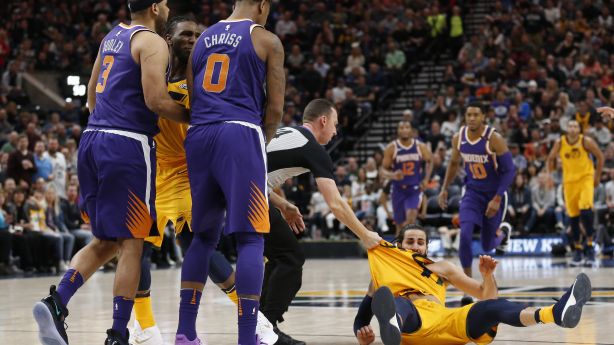 Things went south for the Phoenix Suns season long ago (or have they? Lottery balls..) and they found themselves in a similar position on Thursday night in Utah being down big late in the game.
This time they let their frustration get the best of them and they took it out on Jazz point guard Ricky Rubio…
After Chriss badly missed a dunk attempt and went to the ground Rubio quickly stepped over him to inbound the ball and head down the court the other way, Suns veteran Jared Dudley decided to check Rubio as he was coming down the court and Chriss followed by essentially hit sticking him (Madden reference)…
phoenix suns basketball ??? pic.twitter.com/env4iTlfrI

— nbaayy (@nbaayy) March 16, 2018
Dudley, usually a calming and jolly presence on and off the court, explained the situation in his view after the fact on Twitter…
Thought Quese got fouled, Ref gave them the ball while he was on the ground with my other teammate trying to help him up.. I wanted to stop the fast break( I always do this) The push was a little much but he flopped and sold it.. Flagrant 1 or 2 and you move on.. https://t.co/Yf6CYlcaFj

— Jared Dudley (@JaredDudley619) March 16, 2018
Dudley and Chriss were ejected and Donovan Mitchell and Joe Ingles received technical fouls in the skirmish.
I think another season of futility boiled over a little bit Thursday night for the Suns and Rubio became their de-facto shoving bag to let out their anger.
The Suns lost 116-88 and have now lost 25 of their past 28 games.