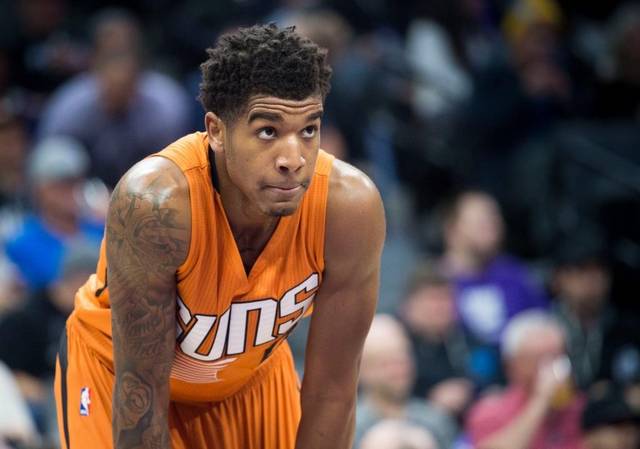 Marquese Chriss came into the 2016 NBA Draft as one of the most raw but intoxicating players of the class.
He is a 6'9″ athletic marvel with all of the physical abilities to develop into a really good NBA player, something that teams hoped he would develop into in time as he only began playing basketball at the age of 14.
He flashed some of that potential the second half of his rookie season for the Suns, showing the ability and aggressiveness to develop into the power forward of the future for the Suns. In his rookie campaign he averaged 9.2 points, 4.7 rebounds, shot 44% from the field and 36% from three after the All-Star break. Promising for a raw 19-year-old playing against the best competition in the world.
There was a lot of excitement surrounding him coming into this season (even after struggling and showing his immaturity and lack of focus in summer league), but Chriss has dissappointed and his numbers have gone down across the board in his Sophomore campaign.
He still lacks maturity and definitely lacks focus and motivation at times, something he has even admitted himself. This has caused the Suns to re-think whether they see him as a part of their timeline going forward.
Here is what General Manager Ryan McDonough said about Chriss to Arizona Sports 98.7 FM in Phoenix:
"We're really looking to evaluate all of our young players, but Marquese in particular, you guys know what he can do in terms of the physical tools and the talent and the athleticism, but we'd like to see a lot of consistency over the last 23 games."

"In some ways, if he's able to show that consistency that that'll help dictate what we do or don't do this summer," McDonough said.
That is about as clear as day that the Suns need to see him show something over the last couple months of the season or they will not be considering him a building block moving forward and may even look to move him as part of a package (or maybe a sign-and-trade deal for Aaron Gordon) this summer.
Chriss doesn't turn 21 until this July and he still in theory should have time to develop as a player, the honeymoon is over though and it is clear his time and role in Phoenix is up in the air unless he develops and matures quickly.