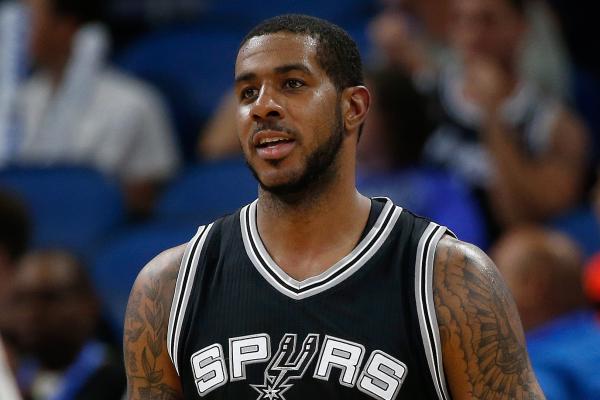 Another NBA All-Star is down.
The San Antonio Spurs announced on Monday that LaMarcus Aldridge would be out of the lineup through the All-Star break while tending to a sore right knee. The good news? This injury isn't serious enough to keep him out of Sunday's All-Star tilt itself, per the San Antonio Express-News' Jeff McDonald:
Aldridge will not play in either of the Spurs' final two games leading into the break, tonight in Utah or Tuesday at Denver. He is expected to play in the All-Star game, however.

The All-Star forward has returned to San Antonio to undergo what the team says is routine treatment on his chronically sore right knee.

"He's just getting a treatment on his knee," coach Gregg Popovich said after morning shootaround in Salt Lake City. "There's a certain amount of rest that has to happen. He's doing it now so he won't have to miss any games after the break."

The treatment is considered routine maintenance on the 32-year-old's right knee, which flares up sporadically. Rest is required after the procedure, and Aldridge had to choose when he wished to be sidelined.

"He can either miss games now or miss games later," Popovich said.
As far as injuries go, this update verges on a godsend. The league has lost too many stars to serious injuries this year. Aldridge's teammate Kawhi Leonard wasn't even in the All-Star conversation because he's sat out most of the season nursing a quad injury. Actual All-Stars Kristaps Porzingis and DeMarcus Cousins won't be partaking in the festivities after year-ending setbacks, while Kevin Love (hand) and John Wall (knee) have both been ruled out due to injuries as well.
(Notice how all of these developments, including Aldridge's, stem from Team LeBron's side. Getting selected by LeBron James, then, has basically become the equivalent of the Madden cover curse. Just saying.)
Fortunately for the Spurs, they only have one more game before the All-Star break following their loss to the Utah Jazz on Monday night. They don't play again until Feb. 23, and you can bet your life Aldridge will barely take the court in Sunday's superstar showcase. That'll give him plenty of time to rest up for the Spurs' stretch run—which is good, because so long as Leonard remains without a timetable for return, they need him more than anyone else.