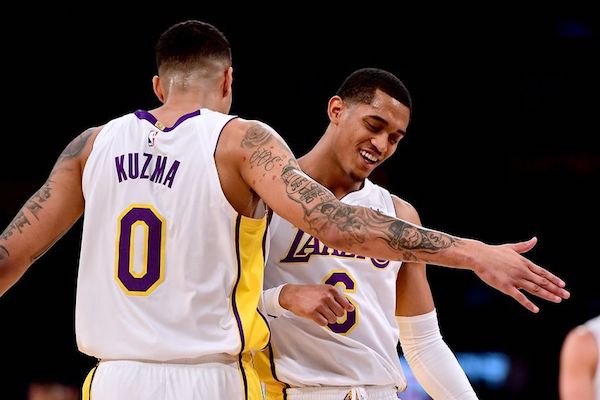 If the Los Angeles Lakers want to open up two max-contract slots in free agency this summer, they'll probably need to trade Jordan Clarkson. They can theoretically choose between keeping him and Julius Randle, but his defined cap hit, as a non-expiring contract (two years, $26 million after this one), makes him the more likely form of collateral damage.
And that, apparently, won't be a problem.
As ESPN.com's Ramona Shelburne said on a recent episode of The Lowe Post podcast, the Lakers aren't having any trouble soliciting offers for their 25-year-old combo guard. In fact, they've apparently fielded proposals featuring a first-round pick as compensation—with one giant caveat:
From what I understand they've had offers for Randle and Clarkson. They've had offers where they could potentially get a first round pick back but then you don't save any money on salary, or you're cash flat. Like you get a pick, but you're cash flat. Or maybe save $2 million, instead of the whole thing. Which means you do one trade now and then you probably package whatever you've got then or you use the draft pick yourself, and then you make another trade at the draft. That's a little more complicated right? Because you've got to pull it off twice, but I think that's more of where they are right now."
The whole point of moving Clarkson—and Julius Randle—is to wipe money off this summer's ledger. Taking back money in exchange for Clarkson specifically is something the Lakers should only consider, given their stated aim, if they strike out in free agency.
This is why team president Magic Johnson and general manager Rob Pelinka may just wait out the situation rather make any decisions by the Feb. 8 trade deadline. They obviously know there's a market for Clarkson. That shouldn't change if he remains healthy. So if LeBron James and Paul George both spurn them, they can retain Clarkson or flip him for a first-round selection. In the unlikely event both board the Lakers' bandwagon, then the front office can simply dump Clarkson into someone else's cap space, without worrying about getting value in return.
Waiting does open up the Lakers to the possibility of rival teams refusing to help them land a pair of stars when the time comes, but that's a risk they should be willing to take. Push comes to shove, they'll find a way to dredge up the necessary cap space for two max slots in the most spendthrift market.