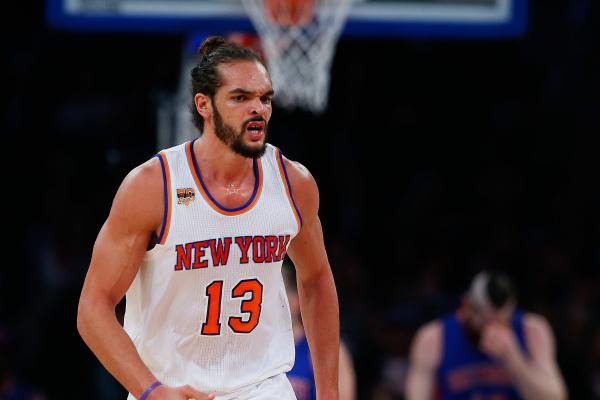 Another former member of the Chicago Bulls has abandoned the New York Knicks.
Joakim Noah has left the team indefinitely due to "personal reasons," a news item that broke in advance of New York's Thursday night loss to the Denver Nuggets. Though the actual circumstances surrounding his departure aren't quite clear, sources told the New York Post's Marc Berman the big man isn't happy with his lack of playing time:
Sources have indicated Noah is unhappy with his situation and the Golden State game Tuesday was the trigger point. One NBA source said Noah could be on a leave of absence for as long as a week.
According to the New York Daily News' Frank Isola, Noah's leave could be related to a recent spat he had with head coach Jeff Hornacek:
According to a source close to the veteran center, Noah shouted at Jeff Hornacek after the Knicks head coach removed him in the fourth quarter against Golden State. Noah played just four minutes and 20 seconds.

"It didn't look good," the source said. "Joakim is obviously frustrated that he hasn't been playing and then he finally goes in and he didn't get much of a chance."
 We can only hope playing time is the actual issue here, because anything else would suggest something is wrong with Noah himself or someone close to him. And yet, while that's the preferred problem, it's also one without a solution.
The Knicks, quite simply, don't have room for Noah. He's played just seven total minutes since the turn of the calendar, despite being, by all appearances, fully healthy. And he cannot expect much else.
Hornacek hasn't even been able to find consistent run for Willy Hernangomez, someone who might actually factor into the team's big picture, because he has Enes Kanter, Kyle O'Quinn and Kristaps Porzingis. Noah, who turns 33 in February and is on perhaps the league's worst contract, doesn't fit into what the Knicks are doing now or later unless they're overrun with injuries.
If and when he returns to the team, he'll do so under the guise of remaining tethered to the bench. Any hope Noah has of escaping this fate lies with the Knicks exercising the stretch provision on the final two years of his deal over the summer.