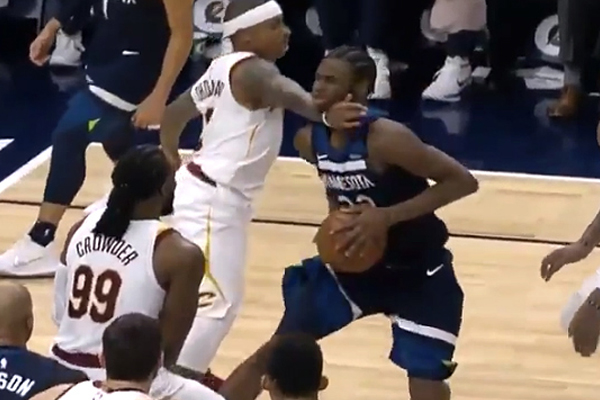 Why no, Isaiah Thomas did not purposely clothesline Andrew Wiggins across the throat during the Cleveland Cavaliers' Monday night drubbing at the hands of the Minnesota Timberwolves.
Not according to Isaiah Thomas, at least.
Just three games into his return from a hip injury he suffered las season, Cleveland's point man earned himself a Flagrant 2 and subsequent ejection for this hit on Wiggins:
Isaiah to Wiggins' jugular pic.twitter.com/hM9bROUcOq

— Dan Favale (@danfavale) January 9, 2018
Um, ouch.
Debate ensued on Twitter as to whether Thomas deliberately went for Wiggins' jugular, because duh. The Cavaliers, after all, were getting waxed, and Thomas is among the NBA's most passionately scrappy players. He could not have been happy about the score, or about his own 3-of-11, three-turnover performance.
Then again, we've seen this before: Players take quick swipes at the ball, hoping to knock it loose. It's basically a tactic that tries to mask suboptimal, if poor, if downright lazy defense. (Carmelo Anthony, for what it's worth, is a frequent employer of such swift swipes.)
Thomas, for his part, maintained afterward that the entire thing was an accident, and that he immediately apologized to Wiggins, per ESPN.com's Dave McMenamin:
"I've gotten numerous steals like that, going out like that," Thomas said afterward. "It just happened I hit him in the throat. I apologized right away because I didn't mean to do that. I'm just glad he's all right."

Wiggins accepted the apology and brushed off the contact as unintentional.
Props to Wiggins for letting this one go. This certainly looked like it could have been intentional in the moment. Upon further review, however, it honestly seems like a poorly placed play on the ball—one that most definitely warranted an ejection (despite what Cavs coach Tyronn Lue spewed afterward), but a gross misjudgment that shouldn't result in Isaiah Thomas being suspended for any additional games.