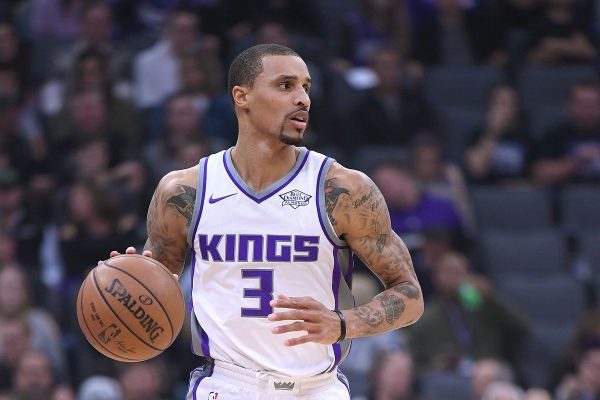 George Hill may soon be a member of the Cleveland Cavaliers.
After losing 10 of their last 12 games and giving the NBA's rumor mill plenty of talking points over the past couple weeks, the Cavaliers are looking to shake things up. And while many will be waiting for them to dangle the Brooklyn Nets pick in a blockbuster, they're instead focusing on a smaller-time deal for Hill.
Here's the latest from the Sacramento Bee's Jason Jones:
The Kings continue to work closer to a trade that would send guard George Hill to the Cleveland Cavaliers for a package that would include Channing Frye and guard Iman Shumpert and some form of draft compensation, league sources told The Bee on Tuesday.

The sources spoke on the condition of anonymity because they are not authorized to speak on behalf of the team.

Hill did not play in Tuesday night's game against the Orlando Magic at Amway Center. The Kings last week began resting at least two veterans every night, so Hill not playing is not necessarily a sign a deal was imminent.
Consider this from ESPN.com's Brian Windhorst as well:
Windhorst: I do think the George Hill trade will happen. I think Derrick Rose may be involved in this one, as well as Frye and Shump. #Cavs

— ESPN Cleveland (@ESPNCleveland) January 23, 2018
As of now, it'll be a major shock if this deal doesn't go through. The Sacramento Kings have no real use for Channing Frye or Iman Shumpert, but they've already stated they're focused on developing the youth. They save around $9 million next season subbing out Hill for the final year of Shumpert's pact (player option)—money that can then, in turn, be used to acquire more unwanted pacts in exchange for additional draft compensation. And every rebuilding team should be interested in draft compensation.
It'll be interesting to see what the Cavaliers are sending back in addition to Frye's expiring deal and Shumpert. They don't have a second-round choice to trade until 2020 (via Miami), and giving up their own first-round pick feels a little steep when they're not getting off any truly terrible money (a la J.R. Smith). Dealing their own first-rounder would also preclude them from flipping the Nets pick in a separate deal.
Assuming the Cavaliers get out of this without coughing up a premier selection, George Hill profiles as a nice pickup by them. He has a 7'0″ wingspan and, despite regressing this season, is better than any other defensive options they have at point guard. He's also the perfect complement to LeBron James, as someone who neither needs nor expects to take on a high-usage offensive role.