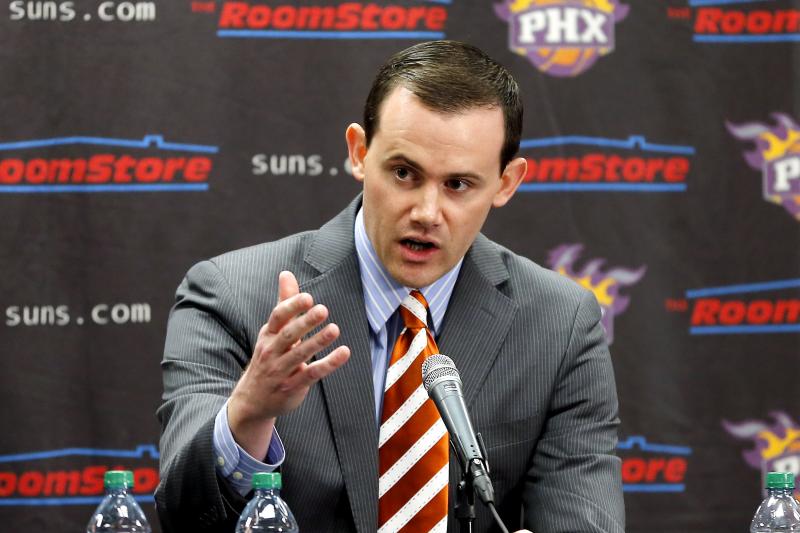 And the Eric Bledsoe saga continues.
The latest: Another theory behind his (apparent) trade request from Phoenix Suns general manager Ryan McDonough.
Here's what he said on the matter, per Kevin Zimmerman of Arizona Sports 98.7 FM:
"Eric (was) eligible for a renegotiation and extension of his contract … with two years left on his contract, we did not feel like that was something that made sense for the team. We told Eric and his representatives that was something that we were potentially open to discussing next summer with one year left on his deal. I guess they didn't like that answer and took kind of a hostile approach and kind of shut down and distanced themselves from the team."
If true, this seems kind of petty. Bledsoe and his camp didn't get their way so they're just going to tweet out trade demands? Not cool.
On the other hand, Bledsoe is 27. The Suns aren't trying to win now, contrary to their previous aims when they first signed him to his current deal. Nothing is wrong with him wanting to secure his long-term financial future in exchange for committing to a different timeline.
And let's not forget the Suns dragged out his contract negotiations three years ago. They were hardly, it seemed, operating in good faith. On top of that, Bledsoe apparently asked for a trade over the offseason, perhaps after Phoenix quashed his extension request. And if that's true, his tweet is more justified—frustration over losing and being strung along or denied at different turns manifesting itself in under 25 characters.
That doesn't suddenly make it the most tactful way of going about things, but again: It's hard to feel for the Suns organization under the circumstances. They seem to have brought this particular soap opera on themselves.