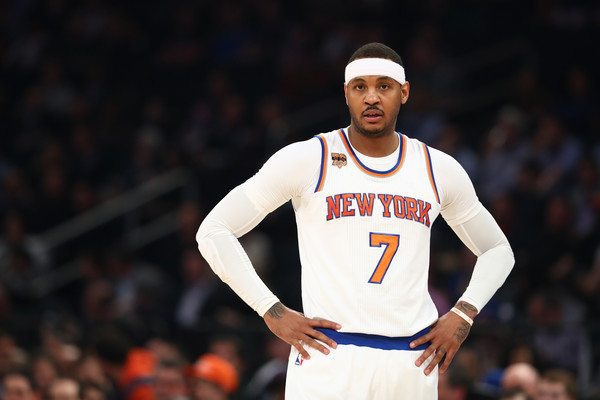 Carmelo Anthony might be starting to have eyes for a team other than the Houston Rockets.
According to Fox Sports 1's Jason McIntyre, while the New York Knicks star's preference is to end up beside James Harden and Chris Paul, the Portland Trail Blazers are beginning to register on his radar:
Carmelo Anthony's people are trying a Hail Mary attempt to get him to Houston (Knicks won't do it) … before he accepts a deal to Portland

— Jason McIntyre (@jasonrmcintyre) September 21, 2017
This report comes on the heels of the New York Daily News' Frank Isola saying Anthony is still hopeful the Knicks will move him before training camp. It also aligns with a blog post from Scott Perry, New York's general manager, wherein he mentions Ron Baker, but not Melo, as a core player.
For what it's worth, though, neither Perry nor team president Steve Mills expects a deal at the moment:
Mills said expects Melo Monday and Tuesday. Perry adds he will be "professional" and good effect on young guys.

— Marc Berman (@NYPost_Berman) September 22, 2017
Talk about inconsistent messages.
Anthony would be a great fit offensively with the Blazers. Playing beside Damian Lillard and C.J. McCollum—who have both been open about their desire to sync up with him—unlocks the catch-and-shoot version of the 10-time All-Star (aka Olympic Melo) everyone wants to see. The dynamic, in fact, wouldn't be that much different from what awaits him in Houston. The difference is the Rockets have better all around defenders, and one of Melo's best buddies, in Paul.
Still, at this point, it doesn't feel like a resolution is imminent. Training camps are getting set to open, so chatter will start to increase. That's normal. But that status quo from the summer is still in effect: Anthony has a no-trade clause and is unlikely to waive it for any team other than Rockets, a team that doesn't have the assets on its own to give the Knicks what they want.