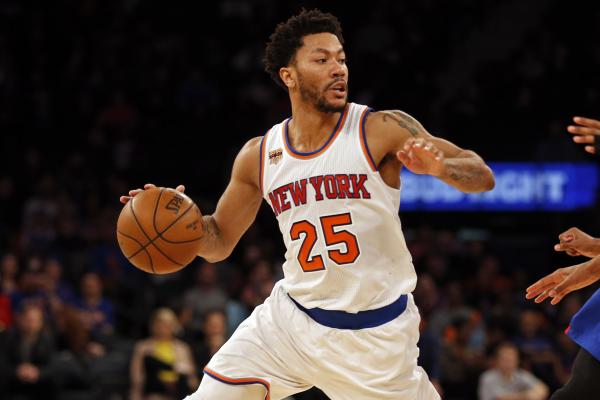 The Milwaukee Bucks don't care about your Derrick Rose jokes.
They're going to court him in free agency anyway.
Even, apparently, if it means clearing cap space to do it.
Per ESPN.com's Adrian Wojnarowski:
Free agent guard Derrick Rose is meeting with Milwaukee Bucks officials today, league sources tell ESPN.

— Adrian Wojnarowski (@wojespn) July 3, 2017
Sources: Milwaukee's been trying to shed contracts to create space. Bucks need to make moves to get into position to sign significant FA's. https://t.co/rxRkk6v3DS

— Adrian Wojnarowski (@wojespn) July 3, 2017
Feel free to insert some snarky comment about Rose here. It'll probably be accurate. He doesn't make the Bucks that much better, if he improves them at all. He only stands to take the ball out of Giannis Antetokounmpo's hands more, and he doesn't help improve the Bucks' already shifty spacing.
All of that said, if Milwaukee is able to sell him on a second-unit role, everything changes. Rose's game is tailor-made for that function. He can still be instant offense thanks to his drives, his stock goes up against bench players, and his suboptimal playmaking abilities won't mean as much when you're leaning on him for about 20 to 23 minutes per game.
Is Rose, who will turn 29 before next season, open to accepting this role? Probably not.
Then again, there's no real starting point guard opening on the market right now. He may not have a choice.