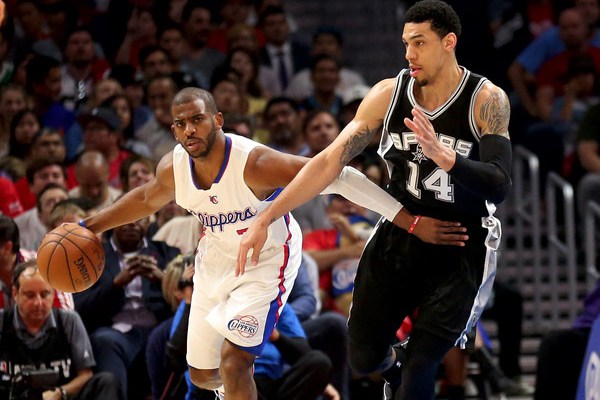 Cold water is being thrown on the idea that the San Antonio Spurs pose a threat to stealing Chris Paul from the Los Angeles Clippers.
Worst of all, for Spurs fans anyway, this cold water comes courtesy of breaking-news sage Adrian Wojnarowski of The Vertical. During an appearance on CBS Sports Radio with Gary Parish (h/t Kyle Boone of CBS Sports), he made it clear that he doesn't think Paul will end up in San Antonio before next season:
"Not that I see," Wojnarowski said of Paul's chances of ending up with the Spurs. "I don't know where that came from. I've spent a lot of time around the Spurs this spring. They would have to just tear up that entire payroll. It's almost unlike anything the Spurs would've done or would do to even have a chance at him. I mean, they'd have to really gut the roster. And to do that for a 30-plus year old point guard, who has a couple great years left, there's no question — I think there's more pressure on the Clippers to have to re-sign him than for the Spurs to turn their whole franchise over to make a run at him.

"Listen, Chris Paul, financially, the difference with him staying in L.A. and to get paid, I'd have a hard time imaging him leaving there," continued Wojnarowski. "There's so much money for him to be made and at that Los Angeles market, just in terms of his marketing endorsements, I still think they're a pretty overwhelming favorite to re-sign him."
To clear the cap space necessary to offer Paul a max deal, the Spurs would have to basically renounce the rights to all their own free agents while dealing LaMarcus Aldridge and Pau Gasol without taking back much salary in return. There is a scenario in which they can make it work by giving up Danny Green and one of Aldridge or Gasol, but Green is much too important to the Spurs' defensive schemes.
Either way you slice it, the cost of signing Paul would be steep. And that's under typical circumstances. The overall price tag is even greater now with Tony Parker recovering from a torn left quad. He isn't expected back until at least the middle of next season, so there's a very real chance his $15.5 million salary becomes dead weight.
While the Spurs could always look to send his contract into cap space or stretch it over the next three years, saving them about as much money as Green costs, they're too loyal to do that to a member of their original Big Three. Parker would have to approve, or at least embrace it, and even then, it's unlikely they pay him $5.2 millionish per year through 2019-20 when he's on an expiring contract now.
Sticking with the Clippers was always the most likely end to Paul's free agency. That hasn't changed. Still, the fact that the Clippers apparently fear the Spurs is enough to keep us dreaming, even if those visions become less realistic with each passing splash of cold water.