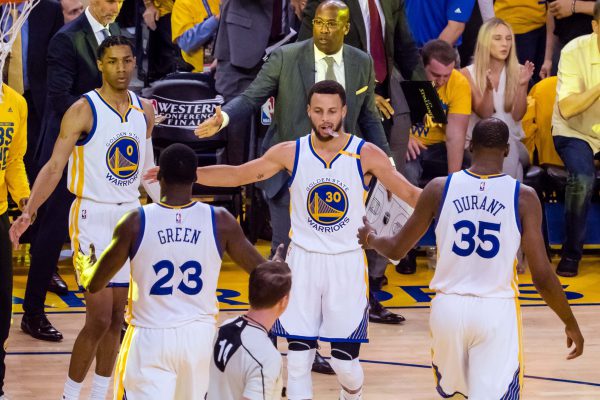 Stephen Curry has always been an offensive nightmare for defenses, but things tend to change in the playoffs. He's always slightly less efficient, and he appears to go through protracted slumps or complete vanishing acts.
Not this year, though.
Curry is averaging 28.6 points, 5.6 rebounds, 5.8 assists and 1.7 steals per game through the Golden State Warriors' 10 straight wins. His true shooting percentage sits at a ridiculous 67.2—the highest of his postseason career, and the first time his playoff true shooting percentage has topped his regular-season showing.
Since Game 4 of the Western Conference Semifinals, he's been a special kind of terrifying, averaging 33 points and 5.7 assists while posting a 57.4/48.6/90.9 shooting slash (57.4 percent shooting overall, 48.6 percent from three, 90.9 percent from the foul line).
His secret?
Absolutely nothing, or so he claimed to The Vertical's Michael Lee:
"I don't think I've done anything differently," Curry told The Vertical as he strolled through Oracle Arena, accepting handshakes and dap for another breathtaking performance. "It's just the moment is bigger, the lights are brighter and the whole scene is catered around playing well right now, and that's what I'm trying to do."
Okay then.
In all seriousness, he's not really lying. He's hitting more of his pull-up jumpers and shooting a ridiculous percentage early in the shot clock, according to NBA.com, but his play style hasn't really changed. If anything, he's been more freewheeling 2015-16 Curry than 2016-17 Curry, the latter of whom butchered his approach for stretches at a time to help accommodate Kevin Durant.
And speaking of Durant, he's the difference. Defenses cannot zero in on Curry like they used to because they're so afraid of what the other top-five player on the roster will do.
And so, Curry, and Durant, and the rest of the Warriors, are making them pay.