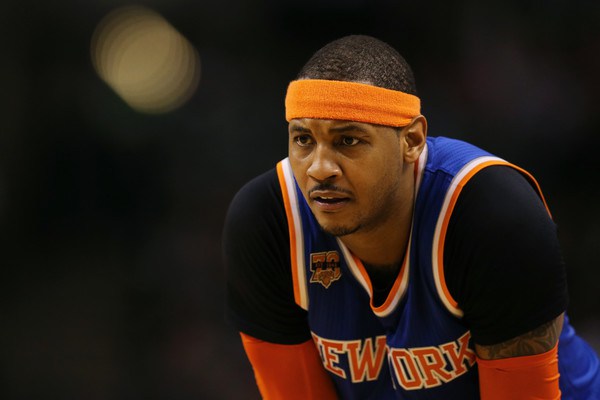 Michele Roberts, the executive director of the National Basketball Player Association, still isn't cool with how New York Knicks team president has treated Carmelo Anthony.
Like, she's not even a little bit over it.
In an interview with Harvey Araton for The Vertical, she accused Jackson of trying to purposefully run the All-Star forward out of town:
The statement, it turns out, only scratched the surface. When Michele Roberts complained in a mid-April release about Phil Jackson's "inappropriate comments" on Carmelo Anthony, she had much more to say about the Knicks president's use of his bully pulpit against the franchise's veteran star.

Much more to allege.

"I think Phil was deliberately trying to shame 'Melo out of the city," she told The Vertical.
If you don't agree with Roberts, ask yourself: What in the actual hell has Jackson been doing then?
Dragging Anthony's name through the mud has been a very contrived process. And the Zen Master even said at his end-of-season presser he'd be better off playing somewhere else. Why else would he do anything of this?
Some people subscribe to the idea that Jackson acts this way as a challenge to his players to be better. Which is, well, freaking stupid.
Jackson isn't a coach anymore. His mind games don't hold as much weight if he isn't on the sidelines. So if that is what he's doing, he's failed to adjust as an executive.
Granted, that's not what he's doing. Let's be real: He's looking for a scapegoat, and Anthony is the easiest target. At this point, the 32-year-old might as well pull the rip cord on his time with the Knicks, if only so he can go somewhere, anywhere, he's not Phil Jackson's whipping boy.