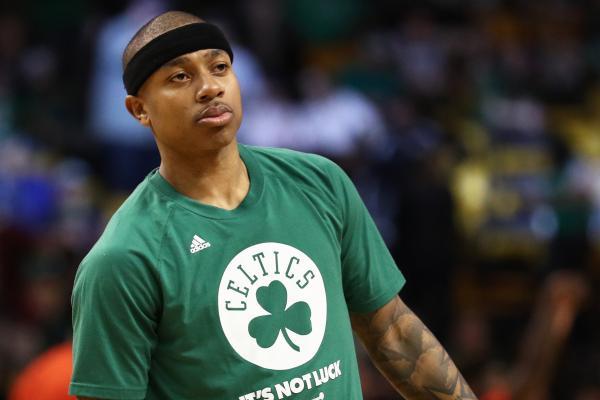 Through eight playoff appearances, Isaiah Thomas is averaging 28 points on 46.2 percent shooting. In the Boston Celtics' Game 2 victory over the Washington Wizards on Tuesday, he dropped 53 points, 29 of which came during the fourth quarter and overtime.
What's his secret?
Watching film.
With Kobe Bryant.
Seriously.
From The Washington Post's Des Bieler:
What would have sounded incredibly unlikely to Boston fans, except that Thomas himself confirmed it Wednesday, is the source of invaluable help to the 5-foot-9 guard during the playoffs: Kobe Bryant. That's right, the player who personified the hated Lakers for so many years has been using his vast knowledge of the game to help a Celtics player succeed in the postseason.

"He made me figure out a lot of things," Thomas said of Bryant to reporters. "He's just been a very helping hand when it comes to the film and figuring out what to do the next day." …

"He's been sending me a text before and after every game since the first round. He definitely helps," Thomas said of Bryant. "He just tells me what he sees and what I should be watching for in film."
Does this also explain why Thomas' killer-instinct seems to be engaged more than usual? Maybe.
At any rate, wow. To all of this. It's great that Kobe is helping Thomas, and it's even better that the latter is copping to said help. Of course, this is anything but good for the Wizards. They've tried a bunch of things to stop Thomas, and none of them are working.
Throwing one man on him is a disaster waiting to happen. Trapping has proved unsuccessful. They've varied their coverages against him on high screens, and that's done nothing. Thomas is slippery, and crafty, and incredibly precise when it comes to his release point, angle, arc and everything else.
If the regular season was any indication, he was always going to be a terror. That Kobe is now on his side, too, is pretty terrifying.