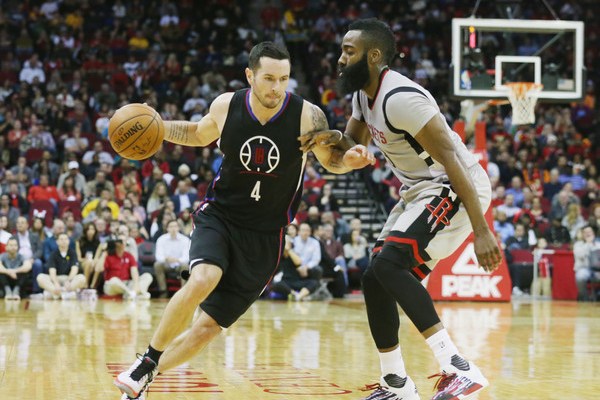 So this is why J.J. Redick is expected to land a contract worth between $18 and $20 million per year this summer: Everybody wants him.
During a podcast recorded with Chris Mannix following the NBA Draft lottery, The Vertical's Adrian Wojnarowski said the New York Knicks, Philadelphia 76ers and Brooklyn Nets all have interest in the sweet-shooting guard.
Here's the transcript, provided by Nets Daily:
Woj stated that the Sixers appear to have the most interest, but that the Nets may want to add the 6'4" shooting guard, if the price is right.

"Brooklyn, the Knicks are teams that have interest in Redick. We'll see how far they're willing to pay," Woj noted.
The Los Angeles Clippers could just decide to pay Redick and keep their nucleus together. But even if Blake Griffin and Chris Paul, free agents themselves, come back, it's hard to justify shelling out $18 million or more per year for an offensive specialist who will turn 33 in July.
Of the three teams Woj mentioned, the Sixers and Nets have the most juice. They can overpay Redick almost without regret. Brooklyn is years away from being relevant, and with its 2018 picked headed to Boston, there is an incentive to picking up some extra wins now. Philly is a different story. It has a ton of cap space to burn and wants to compete now. At the same time, the Sixers don't know whether Joel Embiid will stay healthy, what they have in Ben Simmons and who their top-three pick will turn into. Throwing a ton of money at a 33-year-old over the course of three or four years could end up setting them back if the young core isn't able to blossom as anticipated.
The Knicks have no business trading Redick. They'll have to jump through a ton of rights-renouncing hoops just to pay him his projected salary. They're more likely to land him as part of a sign-and-trade for Carmelo Anthony—which is still dumb. If they're moving Melo, the price should be some combination of picks, prospects and salary-cap relief, not an aging, albeit wildly talented, shooter who would only clog their books for the next three to four years.