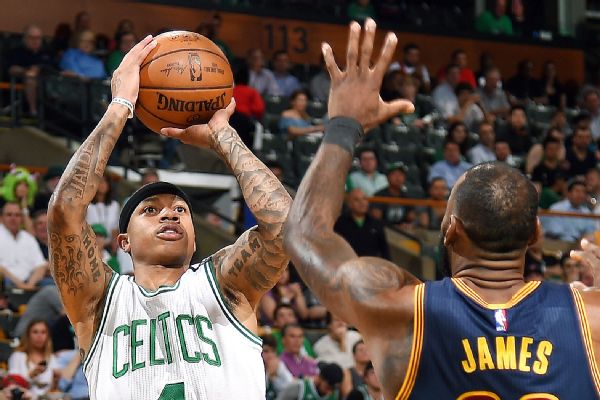 Isaiah Thomas isn't fazed by the Boston Celtics being blown out by the Cleveland Cavaliers in Game 1 of the Eastern Conference Finals. Nor are his teammates.
After all, it's not like the Cavaliers are actual basketball aliens.
His words, basically, not mine.
From Cleveland.com's Chris Fedor:
"I'm very confident," Thomas said after the Celtics' off-day workout Thursday afternoon. "I believe in these guys. We're not scared of Cleveland. They're not the Monstars. They're not on Space Jam. Like, they lace up their shoes just like us. They just happened to play better than us in Game 1 and we've just got to protect home court in Game 2 and get the win."
So, like, Thomas isn't wrong.
Well, actually, he's only fractionally wrong.
The Cavaliers as a whole aren't the Monstars. But LeBron James might be. He destroyed the Celtics in Game 1, hanging 38 points on 14-of-24 shooting despite canning only one of his six three-point attempts. He reached the rim almost at will, and Cleveland definitely left a ton of points on the board by missing bunnies off his passes.
That doesn't mean the Celtics should be scared. Professional athletes are irreverently confident most of the time. That's what makes them so special. That's what allows them to play on the biggest stage.
But the Celtics do need to adjust. In Game 1, they shot 33.3 percent on three-pointers where the defender was four or more feet away from them, according to NBA.com. That's encouraging, because it's unsustainably bad. But they have no answer on defense for James. No team does. Their best hope is to stick Jaylen Brown on him, one-on-one, then try to lock down everyone else.
As Game 1 proved, though, this isn't easy, or even possible. Kyrie Irving was (4-of-11 from the floor), but Kevin Love exploded, and the Cavaliers' other shooters missed some quality looks. The Celtics can do their part by collapsing less on LeBron's drives, but there's a strong chance that making him beat you will actually get you beat.
Which, whatever. Even if the Celtics get swept, at least we know they'll exit without fear.
That's something…right?