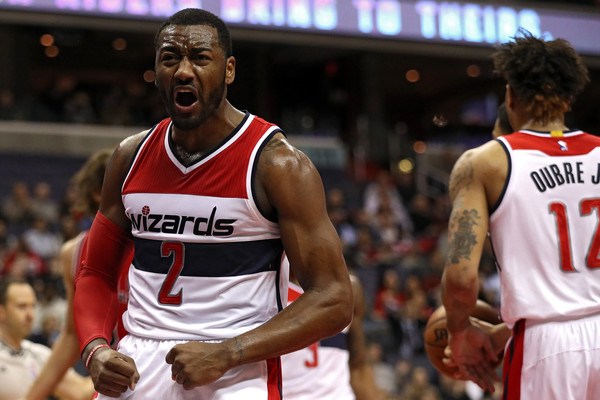 John Wall knows the Washington Wizards need to work on deepening their bench, which is to say, he has eyes.
As he told CSN Mid-Atlantic's Chris Miller (via CSN Mid-Atlantic's Chase Hughes):
Each time John Wall and the Wizards have made the playoffs, they have advanced past the first round and fallen in the Eastern Conference Semifinals. Each time they were competitive enough in those second round series – against the Pacers, Hawks and Celtics – to have many thinking bigger, about a chance to meet LeBron James in the conference finals. Yet each time they were ultimately defeated over the course of a long and hard-fought series.

Wall believes he knows why they fell short each time. He thinks there is a common theme to all of those series that the Wizards must address this offseason.

"We need to help our bench," Wall told CSN's Chris Miller. "Just to be honest, that was our downfall in each series that we had in the [Eastern Conference] semifinals, our bench got out played."
Wall isn't wrong. The Wizards' bench finished the postseason ranked 14th of 16 teams in net rating, according to NBA.com. That jibes with their 23rd-place regular-season finish, which actually received an artificial boon thanks to a mid-to-late-season surge from the reserves. The Bojan Bogdanovic trade helped a bit, but he was still a one-way player. The Wizards couldn't play him without hamstringing their defense. Ditto for Brandon Jennings and Jason Smith. They couldn't play Kelly Oubre Jr. and count on him to make wide-open threes. They couldn't even count on Ian Mahinmi to remain healthy.
Improving the bench, however, figures to be a difficult, if impossible, undertaking. Bogdanovic is a restricted free agent and will likely price himself out of Washington. The Wizards, meanwhile, will be lucky to duck the luxury tax after handing Otto Porter a max deal. They should still have the full mid-level exception to work with, but at a projected $8.4 million, it's not going to solve all their problems.
Short of finding a taker for Marcin Gortat that's willing to fork over some cheap and effective perimeter bench depth—preferably a backup point guard and another wing—there's a better-than-good chance Wall begins next season knowing the Wizards' second-stringers still aren't up to snuff.