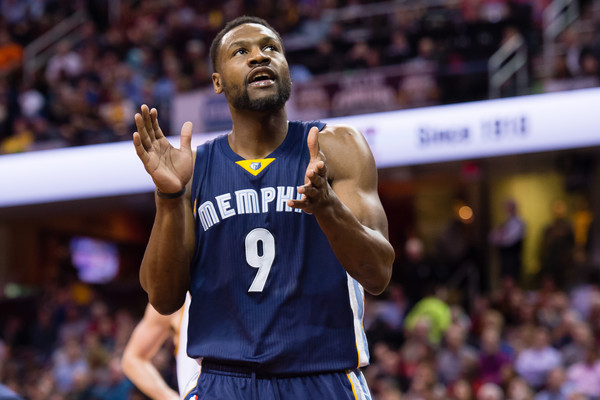 Well, this isn't news you want to get right before the NBA playoffs start—particularly when you're slated to play the San Antonio Spurs.
Tony Allen will be out indefinitely for the Memphis Grizzlies with a strained calf injury, according to ESPN.com's Tim MacMahon and Michael C. Wright:
The Memphis Grizzlies announced Thursday that guard Tony Allen will be out indefinitely with a right calf strain, and a source told ESPN's Tim MacMahon that the veteran is unlikely to play in the team's opening-round series against the San Antonio Spurs. …

The team announced that Allen will be continually re-evaluated, "while beginning rehab immediately." The team also announced it would provide further updates as more information becomes available.
This, obviously, is less than ideal, but it's not the end of the world for the Grizzlies.
The difference between an upset and an early exit was never going to be Allen. He is still a pesky defender who is capable of guarding certain forwards, but his jumper remains awful, and he's no longer a reliable threat when trying to finish around the rim.
Defenses can slink off him entirely, gumming up the offensive works for Mike Conley and Marc Gasol. Plus, Allen may have outlived his defensive purposes. The Grizzlies' offensive rating is actually better with him on the floor, but their defensive rating goes basically unchanged, according to NBA.com. That offensive differential is more a product of the lineups he played in than anything else, so head coach David Fizdale won't have trouble replicating the success with someone else.
Granted, the Grizzlies don't have a booming replacement. Andrew Harrison and James Ennis are likely to get more playing time; it's unclear if that'll be a good thing. The burden upon Vince Carter's shoulders just increased as well, which also isn't ideal, given that he's 40 and already Memphis' best wing.
Nevertheless: Don't count out the Grizzlies. The Spurs have owned them in years past, and they might still dominate them. But the two teams play a similar style, making this a better matchup for the Grizzlies than the Houston Rockets. Allen's absence doesn't change any of that.