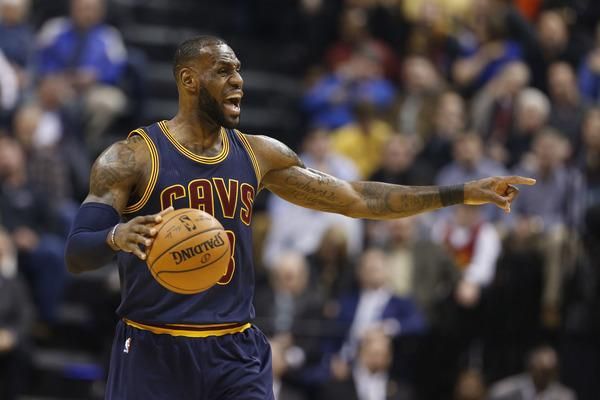 LaVar Ball, father of top NBA prospect Lonzo Ball, and LeBron James, best player in the world, are basically feuding. Because, why not?
Ball caused a stir when he said NBA stars typically don't raise fellow NBA stars and then cited the future of James' kids as a potential example. LeBron, of course, was none too happy, so he fired back.
Now, Ball has fired back at James for firing back. And he isn't backing down, per ESPN.com:
A day after LeBron James told him to "keep my kids' name out of your mouth," LaVar Ball doubled down on his opinion that the children of star athletes don't themselves become star athletes.

"I gave an opinion on what I felt about no superstars' kids really being superstars and the fact that they have to live up to their parents or to their fathers or whatever. I have yet to see one, and I've been around for 50 years," Ball said in an interview with SiriusXM's "Full Ride" on Wednesday. "Have you seen one where the superstar's son is just as good or better than him? I said a superstar. I ain't saying just a regular player. I'm talking about a guy who we picture as an icon — a Dr. J, an Allen Iverson, a LeBron James. If somebody asks me a question, I'm gonna give them an answer."

…

"I don't care what LeBron said," Ball said. "He talking about he warned me. He warned me for what? What is a warning going to do? Nothing."
What an odd feud.
Still, forced to choose, I'd side with LeBron. There was no reason for Ball to use his kids as a hypothetical example for why superstar athletes don't have children who become professional megastars in the same sport when they're older. If that's his theory, fine. But to say that James' kids are somehow at a disadvantage because he's so good at what he does is too insensitive. They're kids. They should not be fair game for throwaway examples.
Ball is outspoken. I get it. And LeBron easily could have brushed his comments aside, viewing them as nothing more than innocuous. But Ball's hypothesis puts him in iffy territory. Past examples are fine, I guess. Talking about the future of, again, kids who haven't had a chance to play it out doesn't feel okay. He could have just relayed his theory without bringing them, or anyone else's children, into the equation.