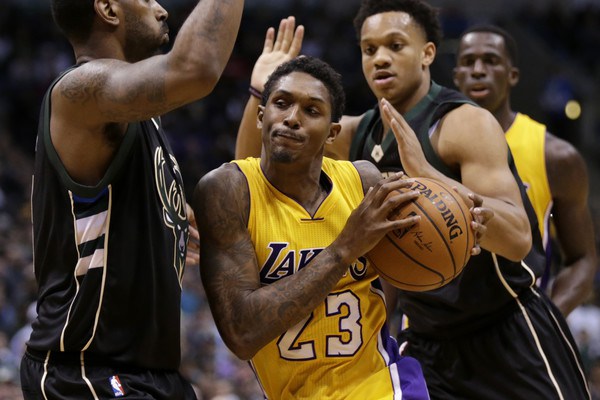 Though the Washington Wizards have been on a tear since Christmas, their bench could use a major boost.
They are not unaware of this.
Hence the interest in trading for Lou Williams or Bojan Bogdanovic, according to The Vertical's Adrian Wojnarowski (via HoopsHype):
 The Wizards feel like if there's a wing player that they can get out in the trade market… Lou Williams, with the Lakers, they have interest in; Bojan Bogdanovic, with the Nets… Washington has shown an inclination to give up a future first-round draft pick, potentially even in this draft to get out a veteran who may even turn out to be a rental for them.
Either of these names makes sense for the Wizards. Since Dec. 25, when they've ranked as one of the best team's in the league, only the Minnesota Timberwolves' reserves have played less than their bench units, according to NBA.com—hardly encouraging knowing the Timberpups are coached by Tom Thibodeau, the anti-rest guru.
Washington's core is young enough to shoulder a heavy burden, but you don't want to risk fatigue if the plan is to play deep into May and, perhaps, into June. Adding Bogdanovic or Williams would be a boon for a bench that ranks in the bottom 10 of both offensive and defensive efficiency, according to NBA.com.
Bogdanovic is bound to be the cheaper option, since he's approaching restricted free agency. Williams is going to cost the Wizards a first-round pick; he's under contract through next season at a paltry $7 million, and he's having one of the NBA's most efficient offensive seasons.
As for whom the Wizards will target first, it all depends. Neither is spectacular defender, though the Wizards can at least play Bogdanovic with both John Wall and Bradley. With no games scheduled before the Feb. 23 trade deadline, there's a good-to-great-to-better than great chance Washington keeps surfing the open market, hoping to unearth a more defense-friendly wing before pulling the trigger on anything else.