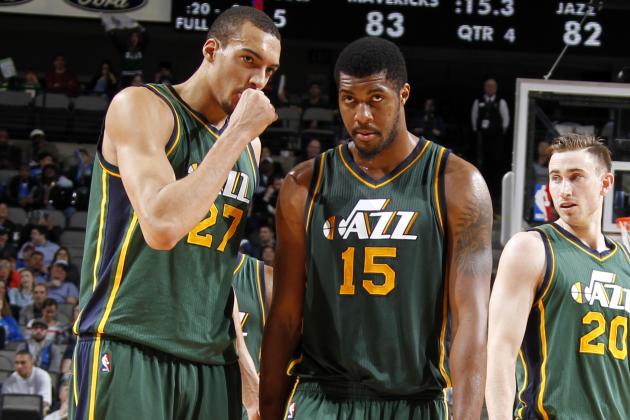 According to a report from Tony Jones of the Salt Lake Tribune Wednesday, The Suns have shown in interest in acquiring 25-year-old big man Derrick Favors from the Utah Jazz.
Here is an excerpt form the Salt Lake Tribune story:
"Even through he has been dealing with a nagging knee injury throughout the season, Favors is still considered important to the success of the team, so it is less likely that the Jazz part ways with him. Still, Utah has been willing to listen when it comes to Favors, who is on a team-friendly contract through the end of next season."
According to the story, the Jazz are looking to clear more money to have available to give big pay days to some of their other young assets including Gordon Hayward and Rodney Hood, along with Rudy Gobert, who's $100 million extension will kick in next season.
Favors is in his seventh NBA season (feels like he has been around forever) since being drafted No. 3 by the then New Jersey Nets in 2010. He has dealt with chronic knee issues this season and is only averaging 9.2 points and 6.1 rebounds in limited time this season after averaging 16.4 points and 8.1 rebounds last season.
It is clear that he doesn't mesh with Gobert, clearly the better player and asset at this point, and Utah would be better served dealing Favors to save money now and hopefully receive some value, which is why they may be pushing the rumor in their local paper to drive up Favors value.
While the Suns are active on the trade market, trading for a player that doesn't fit today's game and is dealing with knee issues would make little sense for the Suns. He doesn't possess the rim protecting abilities to be a great center, nor the mobility to play the Suns style. He would also stunt the development of first round draft picks Marquese Chriss and Dragan Bender.
Let's see if Favors is moved by Thursday.