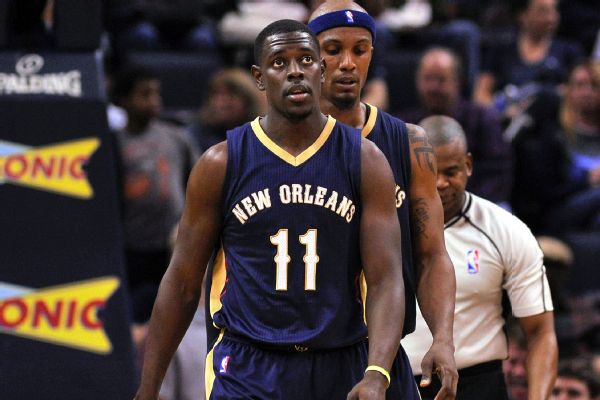 It turns out the New Orleans Pelicans' acquisition of DeMarcus Cousins is great news for Jrue Holiday.
There are the obvious reasons, starting with the fact Cousins give Holiday yet another weapon to which he can pass. But the big man's arrival also gives the Holiday leverage in contract negotiations this summer when he enters free agency. The Pelicans were strapped for flexibility already this summer, and they now have almost $84.8 million committed to next season's docket without including Holiday's inevitable raise from the $11.3 million he's making now.
Renouncing his rights would give the front office some wiggle room, but it'll be hard to find someone who matches Holiday's fit with this team—as that point guard who can play on and off the ball, making life that much easier on the ball-dominant Anthony Davis and Cousins.
That's Holiday's leverage, and he may be able to parlay his position into a max deal this summer, according to Basketball Insiders' Steve Kyler:
Several teams were hoping to pry Holiday out of New Orleans, however, with Sunday's DeMarcus Cousins deal, the Pelicans have gone all in on this roster and are comfortable with where they stand with Holiday, mainly because they can give him the largest deal in free agency. The Pelicans are prepared to do a max or near max deal for Holiday (according to sources) and that salary value may be too rich for other suitors, especially given Holiday's injury history. While nothing is done until it's done, the Pelicans are prepared for the risk of losing Holiday but feel like the outcome of the season post-Cousins trade and a hefty offer could help them sway Holiday back for another deal.
This is a no-brainer on many levels. But if Holiday is going to get $20-plus million on the open market, and the Pelicans, as they hope, ink Cousins to a max deal in 2018, the team will have between $70 million and $80 million, though possibly more, wrapped up in its three best players. Even with a booming cap, this should still represent 75 percent of their spending power by 2018-19.
Can a squad contend for a title with Holiday, Cousins and Davis as its three best players? It seems like we're about to find out in the years to come.