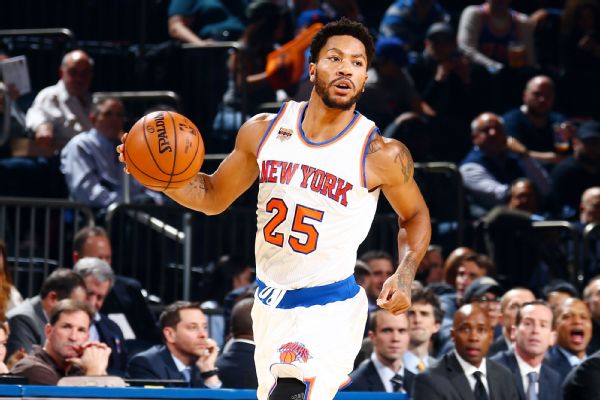 We know multiple NBA teams have discussed a Derrick Rose trade with the New York Knicks, per ESPN.com's Ian Begley , and now we know why: He can be had for pretty much anything.
From The Vertical's Adrian Wojnarowski (via HoopsHype):
Teams have told me in the last 24 hours that (the Knicks) have been really aggressive trying to move Derrick Rose for almost anything, to see if they can get any value back for him.
A reunion between Rose and Tom Thibodeau in Minnesota is the most popular scenario being floated around right now. The Timberwolves want to open the pathway to the starting lineup sooner for rookie Kris Dunn, and Rose's expiring deal helps them do that if it's flipped for Ricky Rubio. Getting Rose off the books this summer will also allot Minnesota more flexibility as it brokers extensions for Zach LaVine and Andrew Wiggins, and the Karl-Anthony Town in 2018.
Other teams should enter the fold if the Knicks aren't looking for more than expiring filler or unwanted contracts. Rose isn't a good basketball player anymore, but his knees have remained healthy and he's done an okay job finishing on drives.
The problem, aside from Rose's actual value, is his cap hit. H e's on the books for $21.3 million this season, and it can be tough to move that much coin without taking back some bad contracts. Hence why the Timberwolves are such an intriguing partner, because they have the cap space to send a smaller salary share back to New York.
It's anyone's guess what the Knicks will do at this point. Trading Rose is arguably addition by subtraction, but you don't want to tie yourself down to yet another sunk cost.
Then again, cap space won't be as valuable in New York following the Charles Oakley-James Dolan and Phil Jackson-Carmelo Anthony debacles. The optics are that bad. So if free-agency wiggle room becomes a sticking point in Rose negotiations, there's a chance the Knicks, knowing this, will fold.