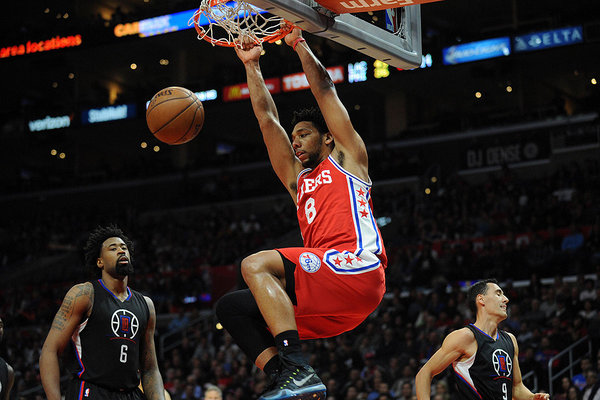 The trade market for Jahlil Okafor, already tepid, was supposed to be freezing cold if many of his thought-to-be suitors in the New Orleans Pelicans, Portland Trail Blazers and Denver Nuggets pulled the trigger on other deals involving big man. That, apparently, hasn't been the case.
Both the Boston Celtics and Chicago Bulls remain in hot(ish) pursuit of the Philadelphia 76ers big man, and now, according to ESPN.com's Ramona Shelburne, Chris Haynes and Jeff Goodman, we can add the Indiana Pacers to that list:
Indiana seems to be one of the more active teams right now as they try to get Paul George some help. One name Jeff Goodman, Chris Haynes and I have all heard they're pursuing: Jahlil Okafor.
So, um, oh?
The Pacers already have Myles Turner and Thaddeus Young taking up space in the frontcourt. Okafor can, in theory, play beside either one, but Al Jefferson continues to come off the bench and is in the first season of a three-year, $30 million deal.
Unless Indiana is pawning off one of its longer-term contracts in this deal (Monta Ellis, Jefferson, etc.), it has no business meeting what is believed to be an irrationally high asking price for Okafor.