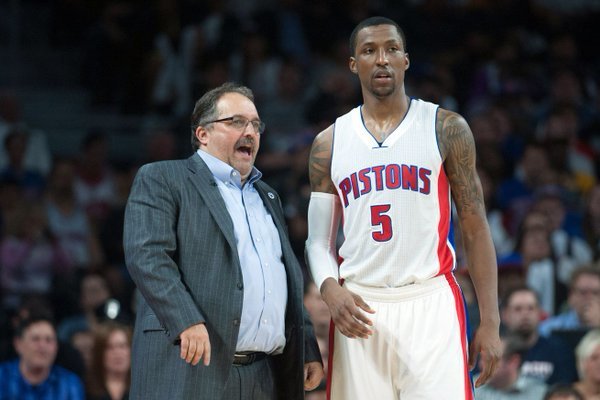 Philadelphia 76ers general manager Bryan Colangelo shot his shot, and he missed.
According to SI.com's Jake Fischer, the Sixers apparently tried to poach Kentavious Caldwell-Pope from the Detroit Pistons using Jahlil Okafor as the primary bait:
Sources: Sixers pitched a Jahlil Okafor package for Kentavious Caldwell-Pope, offered to bring in a third team, but the Pistons rebuffed.

— Jake Fischer (@JakeLFischer) February 22, 2017
Oh, Bryan.
There is a scenario in which Okafor makes sense for the Pistons. Head coach and president Stan Van Gundy typically does phenomenal work with his bigs, and Okafor is unlike Dwight Howard and Andre Drummond in the sense he has a higher ceiling as a passer and post scorer.
But the Pistons can only spin developing Okafor if they're moving on from Drummond, who, while overrated defensively, is worlds better than the Sixers' sophomore overall. This package doesn't help do that; Okafor and Drummond on the same team is kind of pointless.
Plus, the Pistons aren't trading Caldwell-Pope. They have some financial decisions to make with him speeding toward a max deal in restricted free agency, but they'll more likely than not try offloading Tobias Harris, Reggie Jackson or Drummond before giving up on KCP, who has very clearly morphed into their best player.