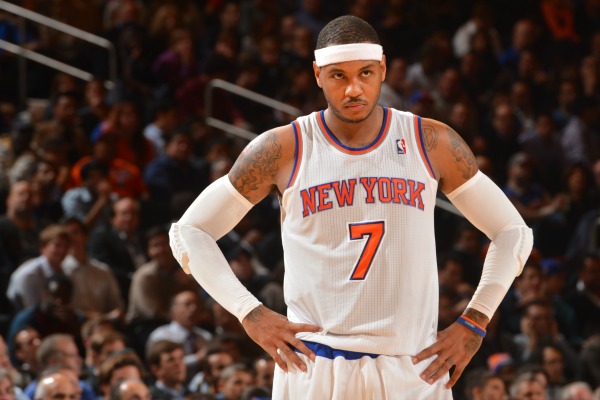 Carmelo Anthony has started in every NBA All-Star Game since 2010, a stretch spanning seven superstar exhibitions. This year, though, he wasn't named to the opening docket, something we all anticipated—including Melo himself.
From ESPN.com's Ohm Youngmisuk:
"Nah, I wasn't expecting you guys to vote me in," Anthony said to reporters. "Not at all. I've seen the results."

Anthony can still make the All-Star Game for a 10th time overall if the coaches select him.

"Of course, I would love to represent New York in an All-Star Game," Anthony said. "I wasn't depending on you guys to vote me in to be honest, to be quite honest."

"I would love to be a part of that weekend, represent not only the Knicks, but represent New York as a city down there in New Orleans," he added. "If I have the honor to do that I'll accept that with open arms. We'll see what happens."
The odds of Anthony getting selected by the coaches are slim, unless they're giving out career-achievement awards. Paul George, Kevin Love, Joel Embiid and Paul Millsap all loom as better options. The same could potentially be said of Andre Drummond.
If there's an abrupt injury or sudden dropout, Anthony might be able to get the nod. But he's playing for a New York Knicks team that's hot garbage, his field-goal percentage isn't anything special, his assist percentage has plummeted in the aftermath of Derrick Rose's arrival, and he has not been a consistent participant on the defensive end.
Truth told, barring a late-career turn of events that sees Anthony rekindle some statistical and physical magic, he may have already played in his final All-Star tilt.