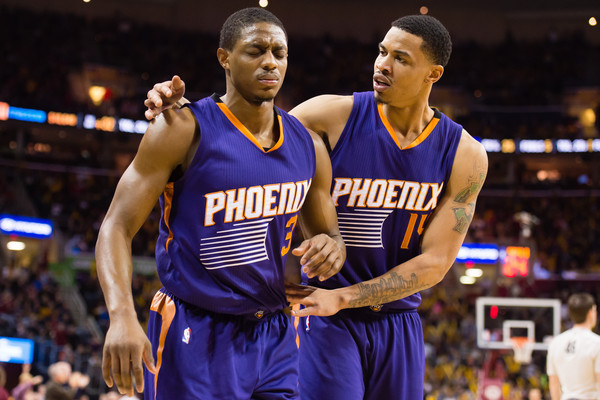 Brandon Knight is having a season to forget, but if the Phoenix Suns make him available ahead of the trade deadline, there will be takers.
From Basketball Insiders' Michael Scotto:
Knight, 25, was asked to be a sixth man for the first time in his career and has struggled with the transition. Phoenix's backcourt tandem of Eric Bledsoe and Devin Booker has left Knight as the odd man out, and he's averaging a career-low 24.2 minutes per game. The lack of playing time has taken Knight out of his usual offensive rhythm. He's shooting career-lows from the field (38.3 percent) and beyond the arc (31.8 percent). His 12.9 points per game are the lowest since his rookie season. He's owed $43.9 million over the next three seasons, which is good value for a starting-caliber guard with the salary cap rising over the next few seasons, as colleague Eric Pincus detailed. Executives around the league are keeping an eye on Knight as the trade deadline draws closer.
Pretty much all Knight rumors have been met with blatant disdain by the Suns organization. But that's probably posturing. The Suns don't have a real need for him with Eric Bledsoe and Devin Booker in the fold, and admitting that he doesn't fit doesn't do his cratering trade value any favors.
Knight has the worst plus-minus in the NBA by an insane margin, so the Suns may just not want to move him now. Instead, they might be hoping he drums up his market appeal ahead of February's deadline, at which point they can capitalize on what feels like an inevitable dissolution.
But there will always be suitors for Knight overall. He is owed $56.5 million through 2019-20, which is a bargain in the current cap climate. Suitors will see what he did in 2015-16, on an individual level, and think they can turn him.
If he doesn't improve upon his performance this season, though, that interest will culminate only in a bunch of lowball offers.