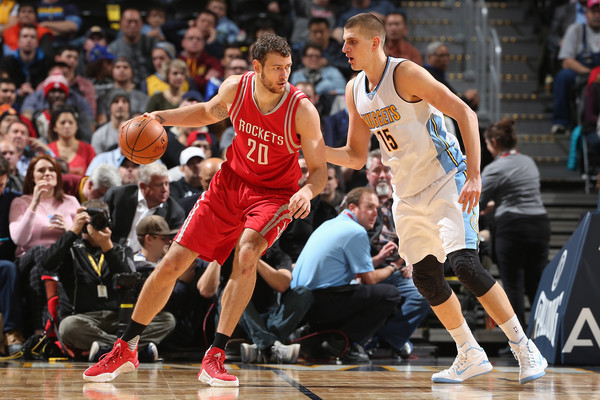 Is Donatas Motiejunas Hollywood-bound?
According to ESPN.com's Ramona Shelburne and Marc Stein, the Los Angeles Lakers brought in the seven-footer for a workout just before Christmas:
The Los Angeles Lakers have auditioned free-agent big man Donatas Motiejunas within the past week, according to league sources.

Sources told ESPN that the Lakers brought Motiejunas in before Christmas to work out in front of the front office and coaching staff, but it remains unclear whether they'll go ahead with signing the former first-round pick.

…

But sources said the Lakers are weighing whether there are enough minutes to go around, with the blossoming Julius Randle and Tarik Black playing the bulk of the frontcourt minutes while Nance is out.
The absence of Larry Nance Jr. over the next few weeks might open up some minutes in the Lakers' rotation, but he's not out indefinitely. Plus, the Lakers have Julius Randle, Tarik Black and Timofey Mozgov to consider. Things get more cramped knowing Luol Deng and Brandon Ingram should each see some time at the 4.
It's also unclear what it would take to sign Motiejunas. He fielded an offer sheet worth more than $35 million from the Brooklyn Nets, only to have that matched/exceeded/re-worked with the Houston Rockets, and then have his relationship with them deteriorate into nothingness when he failed to report for a physical and then failed said physical.
Basically, if Motiejunas' future in the NBA had a relationship status, it would read: "It's complicated."