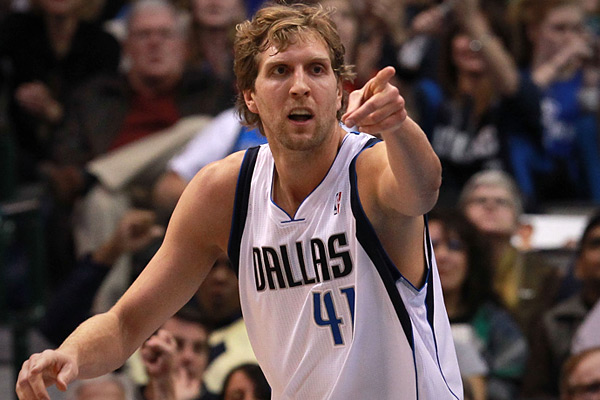 It doesn't sound like the Dallas Mavericks will have to slog through the schedule without Dirk Nowitzki for much longer.
The 38-year-old, who has missed each of the team's last three games while dealing with an Achilles injury, is nearing a return to the lineup, according to ESPN.com's Marc Stein:
Dallas Mavericks star Dirk Nowitzki, recovering from a strained right Achilles tendon, told ESPN.com on Thursday that he has begun to resume on-court work as he moves toward a return to the lineup.

But Nowitzki stressed that he'll need to get through a full-speed practice or two this weekend with no setbacks before he's cleared to play.

"It's definitely better, but I really haven't done much yet," Nowitzki told ESPN.com. "Today was good, but we didn't go anything close to full speed. Just started moving on the court a bit.

"We don't want to rush anything and go back to where we were last week. So if I feel anything this weekend, they're going to ease off again. Obviously I want to play in the Garden on Monday (against the Knicks) and I want to play in Boston (on Wednesday) — two of my favorite road spots. But I just don't know at this point if it's going to happen."
This is certainly welcomed news for Dallas. Nowitzki is a net minus on both ends of the floor, according to NBA.com, but he has just three games under his belt. Though he won't help the Mavericks' defense, he gives them another weapon on the offensive end, where they have become much too reliant on free-agent pickup Harrison Barnes.
Gone are the days, though, when this news would shine a light on the Mavericks' renewed playoff hopes.
They are 2-6, with no clear identity and a shallow roster. Head coach Rick Carlisle is typically able to cobble together a .500 record or better no matter who he has on the roster, but this season, this roster, feels like it's going to be an exception regardless of how good Nowitzki is upon return.