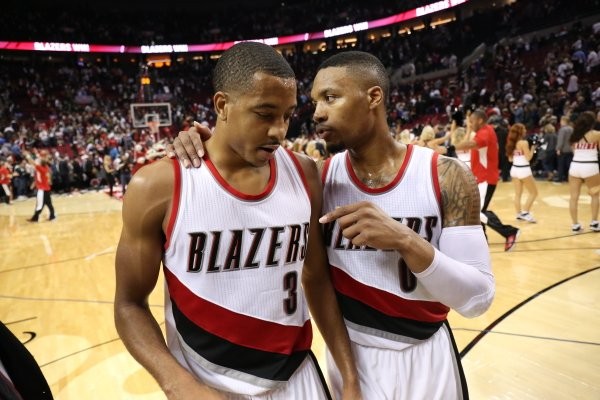 Don't get comfortable with this version of the Portland Trail Blazers.
It might not be around for long.
After spending like crazy over the summer, mostly to retain talent like Maurice Harkless, Meyers Leonard, Allen Crabbe and C.J. McCollum (extension), but also to bring in Evan Turner and Festus Ezeli, people around the league are waiting for the Blazers to make a trade, according to ESPN.com's Marc Stein:
The Blazers have an aggressive front office and more wings (Allen Crabbe, Evan Turner, Moe Harkless) and bigs (Mason Plumlee, Meyers Leonard and Festus Ezeli) than they need.

So keep an eye on them.

The suspicion among numerous league observers is that the Blazers' non-stop spending this past offseason was asset collection as much as anything. Scan through all those names again and it's clear Portland has no shortage of options to thrust itself into all kinds of trade talks as GM Neil Olshey continues to shape the roster around backcourt bedrocks Lillard and C.J. McCollum.
Going as far as calling McCollum a backcourt bedrock might even be a little bit much. He will be tough to move for adequate value before his extension kicks in next season, but the only truly untouchable player on this roster is likely Damian Lillard.
Everyone else figures to be fair game in trade talks once the deadline to move players who've recently signed new deals comes and passes. That doesn't mean the Blazers will work the phones night and day trying to shed talent; they will give this core every opportunity to see if it can stick with the top-four teams with the West.
But, at the same time, the Blazers' payroll will, in all likelihood, break $140 million next year, once McCollum's extension takes effect. It's tough to justify footing that bill for a non-contender, even in this salary-cap climate.
Perhaps they'll wait until the summer to try consolidating some of their talent into a more high-profile player or cheaper, cost-controlled picks and projects, giving this current nucleus an entire season to conjure some Western Conference magic. Rest assured, though, the Blazers, as Stein alludes to, won't maintain the status quo for long if it doesn't allow them to make a leap.