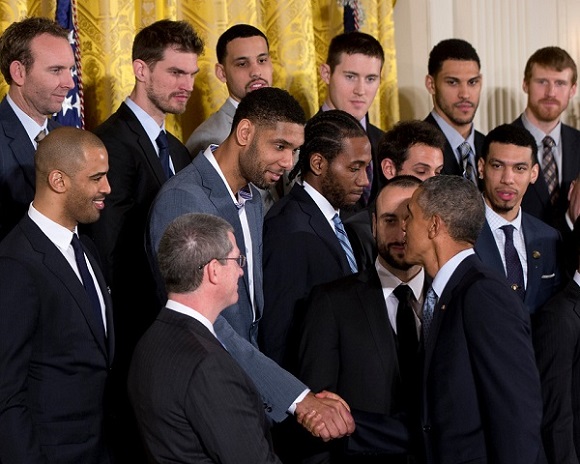 Tim Duncan is gathering his bearings and becoming acquainted with the retirement life, which for most part includes a lot of golf, mid-day naps and early dinner buffets.
Known for being bereft of any desire to be in the public spotlight or take part in any of the rare VIP treatment afforded to high-profile professional athletes, especially as one of the best in the past 20 years of any sport, Duncan is not easily impressed or swayed by a high-profile opportunity.
Duncan's most recent shunning of the high-life may be the most unbelievable of all though: he turned down an offer to fly with the presidential delegation and quite possibly POTUS himself to the Rio Olympics.
Most jump at the opportunity to fly on Air Force One with the nation's leaders to attend the biggest event in the world every four years, but not Tim Duncan.
According to Duncan's former teammate Bruce Bowen, Duncan was offered the once in lifetime opportunity but turned it down because he "is not about that sort of stuff."
I can't help but want to scream at Tim Duncan and have unceasing admiration for him at the same time.
That sort of shunning of super stardom and "look at me" attitude that almost every other elite athlete has to varying levels is one of the many reasons he is one of the greatest leaders the game of basketball has ever had and one of its most accomplished players.