Popular, ESPN affiliated statistical analysis website Fivethirtyeight posted some interesting numbers about the affect an Olympic basketball experience has on NBA stars in their regular season.
Many assume, and understandably so, that players who add in the grind of a month long Olympic experience to shorten their already brief offseason would end up hampered by injuries or see a dip in the production the following season as their bodies were overworked.
Based on previous research that is not the case according to Neil Pane and Jim Pagels who analyzed box plus/minus data, player efficiency rating and win shares per 48 minutes FOR Olympians the season after playing their for their country.
Since the Dream Team in 1992, 65 percent of players saw in increase in production and efficiency the year following an Olympic games: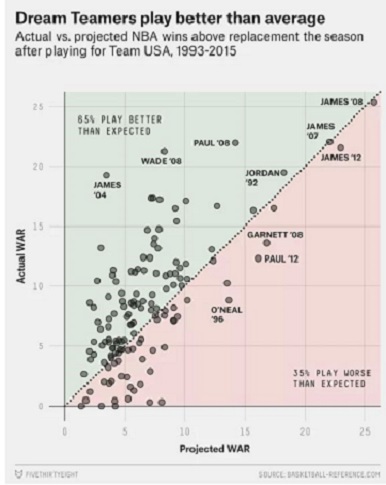 There are a number of factors that you can't measure that can result in this lift in performance for most players such as the benefit for some younger players of playing with a superstar in his prime and viewing their contemporaries' methods and work ethic, the confidence gained from being a gold medalist, the fact that they come into training camp in great shape, etc.
There is also the possibility that Team USA typically appeals to and recruits younger players who are entering their prime and naturally progressing, or players who are on the team are naturally healthier than their counterparts.
This is still a very small sample size in the scientific world with only 84 player seasons to analyze, but it does show that playing for Team USA and the whole experience has typically boded well for players moving forward.
Tell that to Stephen A. Smith.