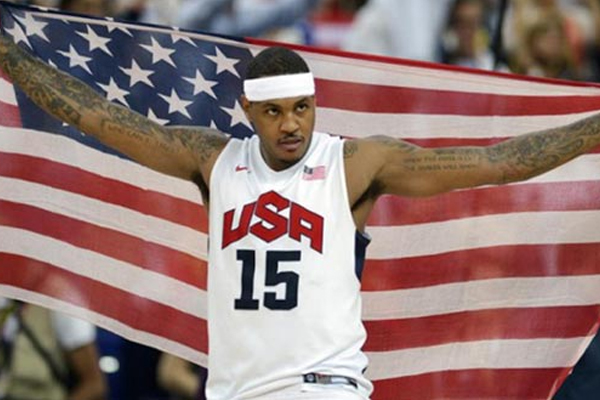 Carmelo Anthony will be watching Team USA compete for its third consecutive FIBA World Cup title from the sidelines.
Anthony is the most decorated international player in the history of USA Basketball, so it was a bit surprising that the federation was so adamant that he wouldn't get a shot. On Thursday, USA Basketball chairman Jerry Colangelo explained the rationale behind the decision
"I love Carmelo," Colangelo told Sports Illustrated. "He made a great contribution. He was a very good international player. But for where we are and what we're doing, that conceivably could have been a distraction. I understand why the request was made. He's trying to reestablish himself. I think that has to be done in the [NBA]."
USA Basketball chairman Jerry Colangelo sat down with @TheAthleticNBA to discuss all of those withdrawals, how adding Melo would've been a distraction, what this means to Coach Pop & why Team USA should still come out victorious at the FIBA World Cuphttps://t.co/8F4opUaIEq

— Michael Lee (@MrMichaelLee) August 8, 2019
Anthony, 35, has been a huge asset on national American teams in the past. He helped the U.S. win a bronze medal in the 2004 Olympics, then was instrumental in pushing the Americans to three consecutive gold medals in 2008, 2012 and 2016 in the Games.
The Team USA roster, according to its official website, is as follows: Harrison Barnes, Jaylen Brown, Andre Drummond, Kyle Kuzma, Brook Lopez, Kyle Lowry, Khris Middleton, Donovan Mitchell, Mason Plumlee, Julius Randle, Marcus Smart, Jayson Tatum, PJ Tucker, Myles Turner, Kemba Walker and Thaddeus Young. With the following players opting NOT to participate: Damian Lillard, CJ McCollum, Anthony Davis, Bradley Beal, James Harden, Tobias Harris, DeMar DeRozan, Kevin Love, Paul Millsap, Montrezl Harrell and JJ Redick.