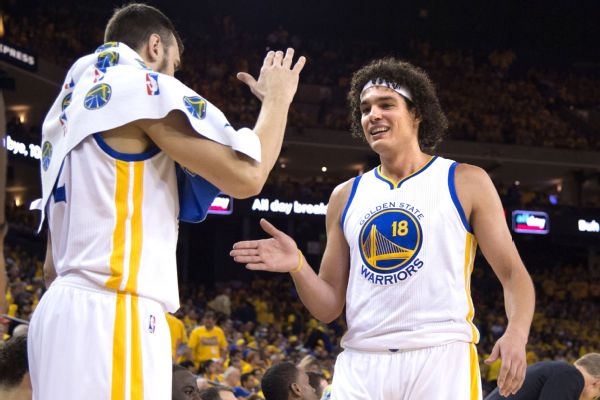 Playing in the 2016 NBA Finals should have been a win-win for Anderson Varejao.
Now a member of the Golden State Warriors, he spent most of his first 12 seasons with the Cleveland Cavaliers, including the first half of 2015-16. So even if the Warriors lost, he would still get a ring.
Well, the Warriors lost. But Varejao, apparently, has no intention of getting a ring, according to AmicoHoops.net's Sam Amico:
Varejao eligible to receive a championship ring from time with #Cavs, but told he has no plans to accept after finishing with #Warriors.

— Sam Amico (@AmicoHoops) July 17, 2016
This is a pretty awesome display of loyalty from Varejao. He hasn't even been with the Warriors for a full year, and he's already forfeiting his right to receive a piece of hardware he doesn't yet have.
Truthfully, he deserves the ring. He wasn't a pivotal part of Cleveland's rotation before being traded to the Portland Trail Blazers and subsequently waived, but he was with the team through all of its recent up and downs.
LeBron James' first go-round. His exit. His return. Varejao has been through it all. After nearly 12 years with the team, as basically its lone constant, he absolutely is entitled to a championship ring—by NBA rule and, most importantly, spirit.
Of course, as a competitor, it's probably weird to accept a ring on behalf of your old team that needed to beat your new team to get it. Many players would probably still take it, especially those who invested as many years with their previous squad as Varejao did in Cleveland.
Only, Varejao's situation is unique. He knows the Warriors are favorites to snag a title next season. So even if he missed out on this ring, chances are he'll be able to get another one in his new digs.