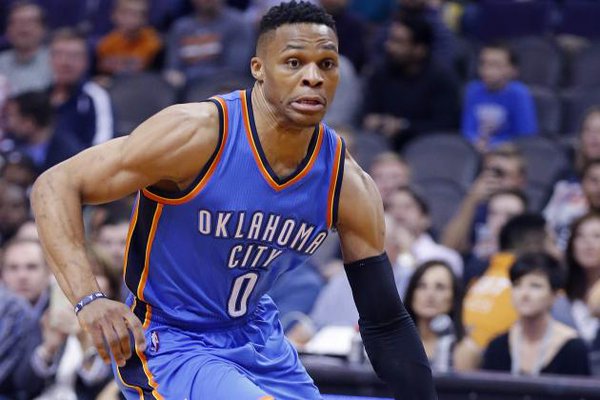 Surely the New York Knicks aren't thinking about their next point guard after just trading for Derrick Rose.
LOL, just kidding. Of course they are. They are the Knicks. They are in a position to have a bunch of cap space next year, even with the dip in projections, and the point guard well will be especially deep, with Stephen Curry, Kyle Lowry, Chris Paul and Russell Westbrook, among others, hitting the open market.
Westbrook is an especially intriguing option now that Kevin Durant isn't with the Oklahoma City Thunder. On some level, it feels almost inevitable that he'll leave, too.
And wouldn't you know it, the soon-to-be free agent is a fan of New York's resident unicorn, Kristaps Porzingis, per ESPN.com's Ian Begley:
There's been plenty of noise in New York about 2017 free agent and Russell Westbrook and the Knicks in the last two days. Westbrook's free agency is 12 months away, so it's probably foolish to make any bold proclamations about his future right now. But here's one thing worth noting on the Knicks/Westbrook dynamic: Westbrook is a big fan of Kristaps Porzingis and has been impressed by his game, according to league sources. Would Porzingis' presence lead Westbrook to New York? Who knows? Again, his free agency is 12 months away. Plenty can happen between now and then. The Vertical reported in February that the Knicks and Porzingis have Westbrook's "attention." But the Knicks now have a point guard on the roster in Derrick Rose, also a 2017 free agent. New York would obviously need to let Rose walk away next summer to pursue Westbrook. The Knicks would also have to clear some additional cap space to have enough money for Westbrook, but they wouldn't have to move heaven and earth to do so. Also worth noting on the Knicks/Westbrook dynamic: New York assistant coach Josh Longstaff has a strong relationship with Westbrook from his days as a video coordinator/player development coach in Oklahoma City.
Share
Begley provides a really solid description of the case at hand. Of course, it's worth noting we're trying to read barely visible tea leaves when it comes to predicting a free agent's mindset 12 months in advance.
Just look at Durant. Most people thought he would stay in Oklahoma City on a one-plus-one deal. And while he ultimately signed such a deal, it was with the Golden State Warriors, not the Thunder.
Anything, then, can happen between now and next July. That includes a Westbrook trade. The Knicks don't have the assets to get him, and whomever hypothetically acquires him gains a decided advantage by owning his Bird rights.
Which means the Knicks' Westbrook aspirations may be tightly tethered to him staying in Oklahoma City through next season.