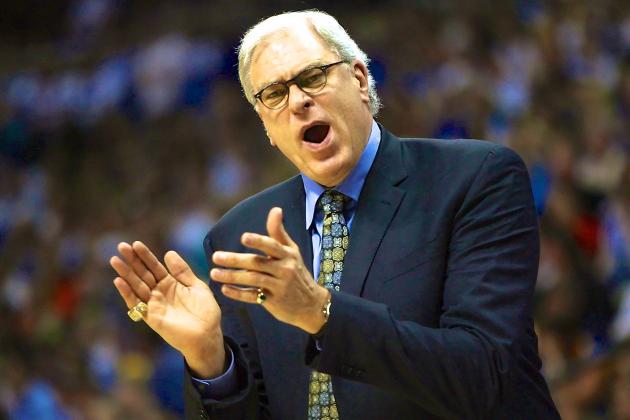 And you thought the New York Knicks couldn't become any more of a side show.
There's no use mincing words on this one. Phil Jackson is apparently as healthy as he's been in a long time, and according to ESPN.com's Ramona Shelburne and Ian Begley, he may consider coaching Knicks home games next season:
Those close to him say Jackson seems more energized these days. He has lost about 20 pounds of the 30 he gained during his first two years on the job. Even Kobe Bryant noticed, remarking after Sunday's game in Los Angeles that, "He looks great. Physically he looks good. I'm happy for him."

There's even talk Jackson could offer to coach home games next season, with Rambis coaching the road games. It's an offer the late Lakers owner Jerry Buss once flatly rejected, but it could be an interesting compromise to hiring Rambis as the head coach next season.
This is a terrible idea.
We already know that Jackson is pulling the strings from the front office. There is no need to make it more official by situating him as the sideline scapegoat at home games. And if that's his way of justifying a decision to hire Kurt Rambis full time, well, that just shows he shouldn't be hiring Rambis full time.
The notion itself is intriguing. Seeing Jackson back on the sidelines would be surreal, and he would finally be the face associated with the Knicks' on-court successes and transgressions, more so than he already is. If he believes the triangle is holier than now, then he should impart its tenets on the team himself.
But all this does is split leadership roles within the organization. Would the players take Rambis seriously enough on the road? Would they take Jackson seriously, period? Does playing for Phil Jackson appeal to free agents, as opposed to just playing on a team for which he is the president?
Unless Kevin Durant has assured the Knicks he'll sign with them should Jackson return to the sidelines in some capacity, this split role has no business progressing past a long-shot theory.