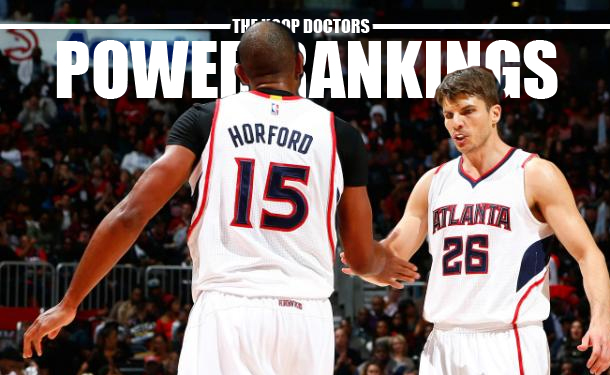 With April on the horizon, so too are the NBA playoffs. And the league's power structure is getting topsy turvy as a result.
The Golden State Warriors are still chasing history, because, well, the Golden State Warriors chase history. The San Antonio Spurs, Cleveland Cavaliers and Oklahoma City Thunder have all entered rest and relaxation mode. The Los Angeles Clippers are just trying to bide time until Blake Griffin's return. The Toronto Raptors and Boston Celtics are staving off miniature slumps. The post-All-Star-break Miami Heat are still terrifying.
And then there's the Atlanta Hawks, the league's forgotten contender. They've started playing like a premier contender again. They have moved up to third in the Eastern Conference standings and boast one of the Association's most formidable defenses.
Is their rise for real? Are they a threat to the Cavaliers and the Raptors? And might this new, defense-first style leave them better equipped to grind out victories in the postseason.
All this, and more. So much more.
Let's power rank.
***For a week by week list of all our NBA Power Rankings this season, please visit this page.
NBA Power Rankings
| | |
| --- | --- |
| 1 | |

Golden State Warriors

It's starting to look like the Warriors are conserving energy for the postseason slog ahead. And yet they're still winning ALL the games.

Last Week (1)

| | |
| --- | --- |
| 2 | |

San Antonio Spurs

Well, it's official: Gregg Popovich has entered "Fuck these games, I'm resting everyone all day erryday!" mode.

Last Week (2)

| | |
| --- | --- |
| 3 | |

Oklahoma City Thunder

Good on the Thunder for starting to rest some peeps, like Kevin Durant and Serge Ibaka, themselves. Imaginary sources told me they tried to rest Russell Westbrook, too, but he put Coach Billy Donovan in an irreversible headlock while foaming at the mouth when approached with the suggestion.

Last Week (3)

| | |
| --- | --- |
| 4 | |

Atlanta Hawks

Holy crap, the Hawks' defense is good. Their offense is mostly disappointing relative to last season, but the D is most definitely better built to succeed in the playoffs.

| | |
| --- | --- |
| 5 | |

Miami Heat

At what point do we start asking ourselves if the Heat are at their best with only one of Hassan Whiteside and Chris Bosh on the floor?

Last Week (6)

| | |
| --- | --- |
| 6 | |

Los Angeles Clippers

Blake Griffin should be returning from injury/suspension soon. This is one part scary for the rest of the league, two parts pointless, since, really, the Clippers won't be making it out of the second round anyway.

Last Week (10)

| | |
| --- | --- |
| 7 | |

Cleveland Cavaliers

That the Cavaliers are still so dependent on James, even with two other superstars in the mix, is a problem—both now, and even more so moving forward.

Last Week (4)

| | |
| --- | --- |
| 8 | |

Toronto Raptors

What in the hell is happening with the Raptors? It's almost like they didn't like being mentioned in the same breath as the Cavaliers.

Last Week (5)

| | |
| --- | --- |
| 9 | |

Charlotte Hornets

Imagine a world in which the Hornets, depending on seeding, make the Eastern Conference Finals. Then imagine a world in which imagining this isn't crazy. That's the world we live in.

Last Week (9)

| | |
| --- | --- |
| 10 | |

Boston Celtics

Jae Crowder needs to get back ASAP.

Last Week (8)

| | |
| --- | --- |
| 11 | |

Detroit Pistons

Really just want to fast forward to free agency, so we can see what the Pistons do to improve their fringe contender.

Last Week (12)

| | |
| --- | --- |
| 12 | |

Utah Jazz

Maybe it's time to start believing in the Jazz. Again. For real this time. Without the fear of them burning that belief to the ground.

Last Week (14)

| | |
| --- | --- |
| 13 | |

Portland Trail Blazers

Terry Stotts or Brad Stevens for Coach of the Year? It's one of life's great questions.

Last Week (15)

| | |
| --- | --- |
| 14 | |

Indiana Pacers

Indiana really needs to sort itself out on the offensive end over the summer. And banking on Myles Turner to make the leap next year won't qualify as a enough.

Last Week (11)

| | |
| --- | --- |
| 15 | |

Houston Rockets

Can you play much better overall basketball and still lose games? Yes, yes you can. The Rockets are proof.

Last Week (17)

| | |
| --- | --- |
| 16 | |

Washington Wizards

Who's more likely to be in Washington next season: Randy Wittman or Kevin Durant?

Last Week (13)

| | |
| --- | --- |
| 17 | |

Chicago Bulls

For the love of logic, the Bulls really need to hit reset this offseason. Keep Jimmy Butler, Bobby Portis and Doug McDermott. Dump everyone else and start striving for more than delusional Eastern Conference contention.

| | |
| --- | --- |
| 18 | |

Dallas Mavericks

Deron Williams and Chandler Parsons are both on the sidelines. Incidentally, the Mavericks' playoff hopes are in the toilet.

Last Week (18)

| | |
| --- | --- |
| 19 | |

Memphis Grizzlies

Lance Stephenson facing the Clippers in the first round of the playoffs is going to be fun.

Last Week (19)

| | |
| --- | --- |
| 20 | |

Orlando Magic

And the "Seesaw Team of the Year" award goes to…the Orlando Magic.

Last Week (22)

| | |
| --- | --- |
| 21 | |

Denver Nuggets

If you don't have Nikola Jokic in the top three of your Rookie of the Year ballot, you're doing life wrong.

Last Week (21)

| | |
| --- | --- |
| 22 | |

Minnesota Timberwolves

Minnesota ranks in the top 10 of offensive efficiency for the month of March. WUT.

Last Week (24)

| | |
| --- | --- |
| 23 | |

New York Knicks

Phil Jackson really needs to offer the world to any one of the Spurs' main assistant coaches over the summer in hopes they're willing to steer his forsaken rebuild.

Last Week (23)

| | |
| --- | --- |
| 24 | |

Sacramento Kings

George Karl is the sitting duck that other sitting ducks make fun of.

Last Week (25)

| | |
| --- | --- |
| 25 | |

Milwaukee Bucks

The optimism surrounding Milwaukee's late-season progression sure didn't last long. The Bucks are back to losing in volume, faced with a plethora of questions they'll need to answer before next year.

Last Week (20)

| | |
| --- | --- |
| 26 | |

New Orleans Pelicans

Jrue Holiday and Alonzo Gee are now done for the season. The basketball gods, it stands to reason, are not Pelicans fans.

Last Week (26)

| | |
| --- | --- |
| 27 | |

Brooklyn Nets

Sean Kilpatrick should be everyone's guilty-pleasure viewing on League Pass.

Last Week (28)

| | |
| --- | --- |
| 28 | |

Phoenix Suns

Devin Booker is probably going to steal some top Rookie of the Year votes, and it's difficult to be mad about that.

Last Week (27)

| | |
| --- | --- |
| 29 | |

Los Angeles Lakers

It's a wonder Byron Scott hasn't murdered anyone this season. Yet. That we know of.

Last Week (29)

| | |
| --- | --- |
| 30 | |

Philadelphia 76ers

If Richaun Holmes could just get healthy, and then stay healthy, I'd totally watch the Sixers more.

Last Week (30)