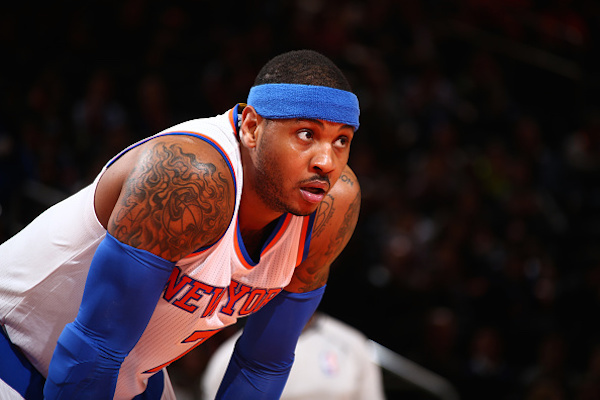 Carmelo Anthony has no intention of letting Phil Jackson become a part-time head coach of the New York Knicks.
Whatever that means.
Here's what the Knicks' top dog said of the recent rumor that Phil Jackson would consider coaching the boys in orange and blue during home games next season, brought to us by Marc Berman of the New York Post:
Carmelo Anthony declared it a lousy idea for Knicks president Phil Jackson to return to the sidelines next season, saying the 70-year-old's too old for the job. Anthony added he wouldn't even approve of a scenario in which Jackson would coach just home games.

Anthony didn't sound overjoyed with interim coach Kurt Rambis either, giving a lukewarm endorsement. Anthony said he'd be OK with Rambis' return, but Phil Jackson also should talk to "other candidates."

…

"Phil ain't coaching no more, man,'' Anthony said Tuesday. "Let's kill that rumor. Phil ain't coaching no more."

…

I don't think that should be accepted, I wouldn't accept that if that was the case,'' Anthony said of the home/road split. "That would be tough to do. Phil's cool. He doesn't need to be on the sideline anymore. He put so many years into the game. He doesn't need to be on the sideline. I don't think he's thinking about coming back on the sideline. I hope not."
We have to appreciate Anthony's candor, but he provides the opposite of an endorsement in what Jackson may be thinking. He doesn't appear overly joyed at the prospect of Rambis' return, and the "I hope not" in reference to Jackson contemplating a return to the sidelines is flat-out definitive.
Might this cause problems between he and the Knicks down the road? Maybe. But probably not. Jackson, as Anthony himself acknowledged, is unlikely to actually return to the sidelines. He's already a part-time coach anyway, given all the energy he invests in communicating with Rambis.
If the Knicks land impact players in free agency, it won't matter what Jackson decides, or whom he chooses to hire. That's what Anthony wants most. His future in New York doesn't come down to a coach, or to whether or not Jackson will, by design, implant an air of instability by taking the reins for 40-plus games per season.
It comes down to the Knicks being able to compete as he enters his twilight. Nothing else matters.