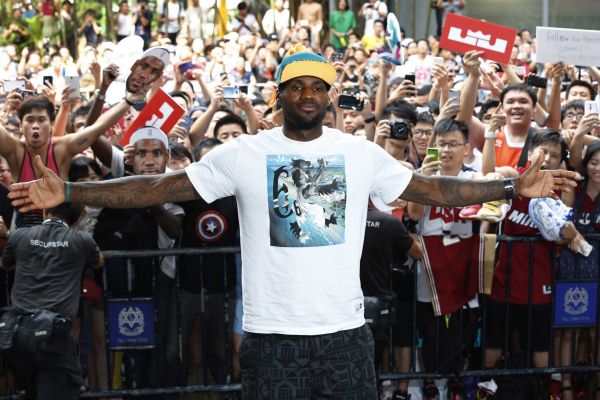 LeBron James harbors no ill will toward his two sons for admiring the games of Stephen Curry and Russell Westbrook.
Because, obviously. They're his sons. He's not a monster.
But there's also the matter of Curry and Westbrook being pretty damn good basketball players, which is why LeBron James' sons have modeled their own jersey numbers after a pair of their on-court idols, per ESPN.com's Dave McMenamin (h/t Bleacher Report):
LeBron tells me LeBron Jr. (No. 0) & Bryce (No. 30) wear their numbers after Westbrook & Steph. "I love that they carve their own path"

— Dave McMenamin (@mcten) March 15, 2016
This is pretty standard stuff. Parents support their kids. Good ones, anyway. I'm not a parent myself, but I had a very supportive mother. She was a religious education teacher and didn't disown me when I started idolizing tall guys in oversized shorts who try to put an orange-brown thing through a hoop instead of opting to follow in her occupational footsteps.
Sure, it's different in LeBron's case, because this is his profession. But that doesn't mean he needs to have this insane need for his sons to admire him and only him.
Maybe this would have been a problem 20 or 25 years ago, when there were a bunch of individual rivalries. But the age of social media has not only connected fans to players, it's bonded players to one another. LeBron James is probably on excellent terms with both Steph and Russ. He might even count them as friends. And if they're who his sons want to emulate, or simply pay homage to, that's only a good thing. They could do a lot worse than to extoll two future Hall of Famers.