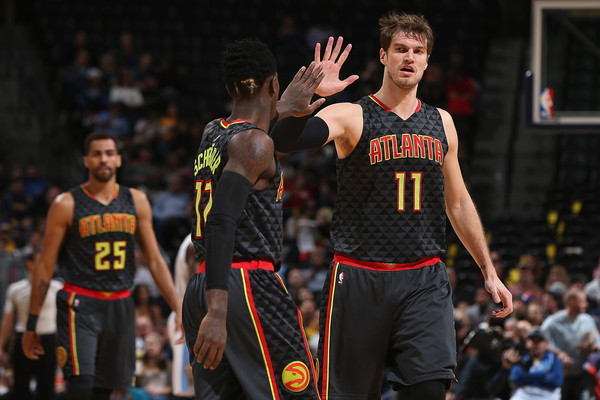 Tiago Splitter has already played his last game for the Atlanta Hawks this season, and he may be absent to start the beginning of next year. But the big man is making ample progress in the rehabilitation of a right hip injury.
Here's Chris Vivlamore with an update for The Atlanta Journal-Constitution:
Less than a month after undergoing season-ending surgery on his right hip, Tiago Splitter is riding an exercise bicycle and walking with the aid of only one crutch.

The Hawks reserve center won't play again this season and will miss the 2016 Rio Olympics and perhaps the start of next season. However, his rehabilitation program is well under way.

"This is all the normal protocol, normal procedure," Hawks coach Mike Budenholzer said Tuesday. "One of the things that Tiago believes in firmly and the (athletic performance staff) believes in, is to get him in great shape to come out of the surgery and give him his best opportunity to make it back. There are things he can do to get himself in elite condition so when he is in a position to come back he's in unbelievable physical condition."
Though it's still early in the process, this is good news for the Hawks. Splitter, 31, is on a cost-controlled deal that will expire after next season and adds flavor to Atlanta's system as a strong passer, post scorer and rim protector.
Getting him healthy will be of the utmost importance next season if the Hawks are still trying to contend in the Eastern Conference. Al Horford is slated for unrestricted free agency this summer, and judging from the rampant rumors that circulated ahead of the NBA's trade deadline, there's a chance the Hawks let him walk as they begin a quasi-rebuild or total facelift.
Splitter isn't anywhere near as versatile as Horford. He cannot shoot threes, and you really don't want him putting the ball on the floor or chasing around perimeter bigs. But he can play alongside Paul Millsap and ensure the Hawks continue fielding one of the best defensive frontcourts in the NBA.
This, of course, may all be moot. Horford could re-sign with the Hawks, at which point Splitter is valuable off the bench, as someone who can operate beside Horford or Millsap. Either way, regardless of the direction in which the Hawks will head after this season, a healthy Splitter will be a pivotal part of making the most of the 2016-17 campaign.