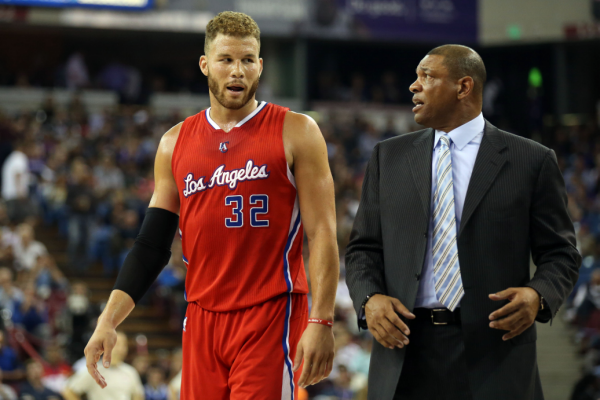 Blake Griffin is still nearing a return to the Los Angeles Clippers.
Emphasis on still.
Griffin hasn't played since Christmas while dealing with a variety of injuries, including a fractured right hand he suffered after punching the team's assistant equipment manager. Once he's healthy, he'll need to serve a four-game suspension before resuming his spot in the lineup.
All of that, according to head coach Doc Rivers, as relayed by Clippers.com's Rowan Kavner, is about to happen soon:
Doc said Blake's working more & Doc's confident he'll be back before playoffs but can't say w/ 100% certainty. Still no return date.

— Rowan Kavner (@RowanKavner) March 22, 2016
So, um, I guess this is reassuring?
There are only 13 games left for the Clippers this season, so if Blake Griffin is going to make his return before the playoffs, he'll need to be cleared very, very soon. The good news is that the Clippers aren't exactly jostling for playoff positioning. The Oklahoma City Thunder are five games ahead of them, and the Memphis Grizzlies are three games behind them. Barring an epic collapse, the Clippers are locked into the West's fourth seed.
The team has, however, lost four of its last five games, and six of its last nine overall. The Clippers will have some spacing and defensive issues to work out upon welcoming back Blake Griffin, but that's a problem they'll tackle with open arms. He is still a top-15 player in this league when healthy, and the Clippers, due in part to the inconsistent play of their bench, especially against rival title contenders, need all the star power they can get if they're to make a dent in the NBA's playoff bracket this spring.