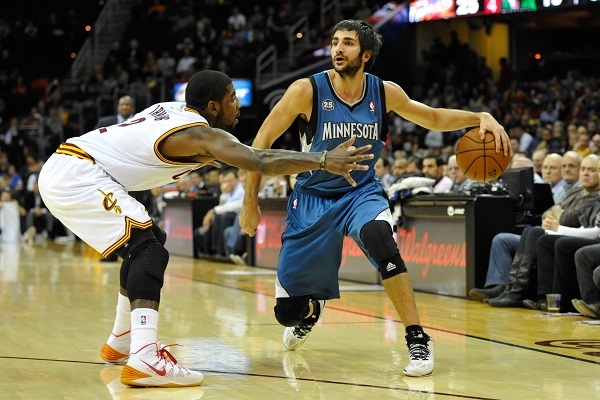 The Minnesota Timberwolves are apparently prepared to move on from Ricky Rubio.
According to Frank Isola of the New York Daily News, the Timberwolves are not only willing to take calls on their point guard but have made him "readily available" for the taking (h/t ProBasketballTalk):
Zach LaVine was nothing short of spectacular in winning his second straight Slam Dunk title on Saturday and by the end of this week he may win something else; the starting point guard job for the Minnesota Timberwolves.

Incumbent Ricky Rubio is readily available and the feeling is that the Spanish guard could be moved prior to Thursday's NBA trade deadline.

Phil Jackson is in the market for a point guard but it's hard to envision the Knicks having the assets to acquire the 25-year-old Rubio, whose season average in points (9.7), assists (8.6) and minutes (30.3) are down this year.
Rubio is in the first year of a four-year, $55 million extension—which, for the random record, is $7 million more than Stephen Curry received from the Golden State Warriors when he put pen to paper on his rookie extension. When healthy, he can be one of the league's craftiest playmakers and an understatedly sneaky defender. But his jumper is broken, and he has never even shot 40 percent from the floor for an entire season.
As Isola notes, the Knicks desperately need a point guard, but Rubio isn't a good fit for the triangle. Lack of assets aside, if the Knicks show any interest in Rubio and the remaining three years left on his deal, it would be a harbinger of their willingness to move away from stringent triangle sets.
Rubio could fit in elsewhere—Milwaukee, anybody?—but the going rate for a talented playmaker who cannot shoot is unclear. Unless the Timberwolves are truly motivated to dump Rubio in favor of a more minutes and touches for Zach LaVine and Andrew Wiggins, expect for their primary floor general to remain in Minnesota through at least this seaosn.