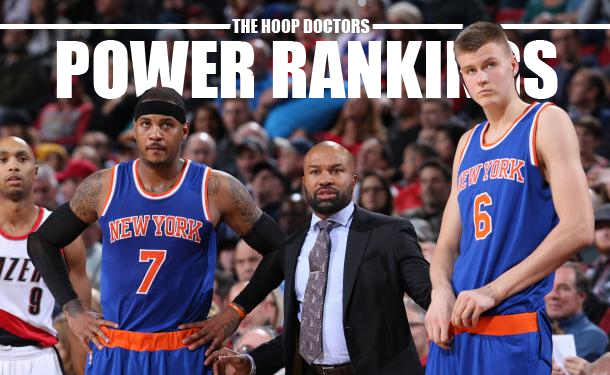 What time is it?
NBA power rankings time.
A lot has happened since we last met. All-Star rosters were finalized. The Warriors refused to lose. The Suns refused to let Jeff Hornacek keep his job. The Cavaliers found their mojo. The Bulls forgot how to score. The Spurs unleashed Kyle Anderson. The Knicks proved they're the NBA's most maddening roller coaster. The Celtics, Clippers and Raptors went streaking. The Thunder stayed quietly dominant.
And, most importantly, Kobe Bryant hung 38 points on a Timberwolves squad that, recently, has looked utterly confused.
OK, maybe that's not the most important development, but it says in my contract I need to overreact about every positive thing pertaining to Kobe.
On to the rankings of power!
***For a week by week list of all our NBA Power Rankings this season, please visit this page.
NBA Power Rankings
| | |
| --- | --- |
| 1 | |

Golden State Warriors

Warriors. Are. Good. At. Basketball.

Last Week (1)

| | |
| --- | --- |
| 2 | |

San Antonio Spurs

There has been some unrest in San Antonio of late. No, I'm not talking about the losses to Cleveland and Golden State. Those are whatever. I'm talking about Kyle Anderson starting to look like an NBA player. He's coming for Boris Diaw's job next season.

Last Week (2)

| | |
| --- | --- |
| 3 | |

Oklahoma City Thunder

Can we find a way to get Allen Crabbe to Thunder? I feel like Allen Crabbe has to be on the Thunder.

Last Week (4)

| | |
| --- | --- |
| 4 | |

Cleveland Cavaliers

Tyronn Lue has fixed the Cavaliers only six games into his tenure as head coach!

Well that, or the Cavaliers are just doing what David Blatt wanted them to do along—in which chase WHO THE HELL CARES TYRONN LUE HAS FIXED THE CAVS.

| | |
| --- | --- |
| 5 | |

Toronto Raptors

The people deserve a Cavaliers-Raptors Eastern Conference Finals, if only because there isn't another team, aside from maybe the Celtics, who could maybe, quite possibly, if they're lucky, hang with Cleveland for a seven-game series.

Last Week (3)

| | |
| --- | --- |
| 6 | |

Los Angeles Clippers

Check it:

Hawks Get: PG Trey Burke, SG Alec Burks, PF David Leeand 2016 first-round pick (via Brooklyn Nets)

Celtics Get: PF Blake Griffin and SG Lance Stephenson

Clippers Get: SG Avery Bradley, PF Paul Millsap, PF/C Kelly Olynyk and 2016 first-round pick (via Dallas Mavericks)

Jazz Get: PG Terry Rozier, SG Thabo Sefolosha and PG Jeff Teague

I have changed your life forever.

You're welcome.

Last Week (8)

| | |
| --- | --- |
| 7 | |

Boston Celtics

So the Celtics are bordering on elite without a true superstar and aren't a mirage. Imagine what they could be if they flipped some assets for a megastud before the trade deadline.

Last Week (7)

| | |
| --- | --- |
| 8 | |

Atlanta Hawks

The Hawks' defensive rating is officially way better than their offensive rating, which scares the shit out of me—in a bad way.

Last Week (5)

| | |
| --- | --- |
| 9 | |

Memphis Grizzlies

I mean…Here's the thing…What's happening is…Fuck it, I don't know what's going on.

Last Week (13)

| | |
| --- | --- |
| 10 | |

Detroit Pistons

All these games later and, aside from Andre Drummond-Reggie Jackson pick-and-rolls, it's still painful to watch the Pistons offense.

Last Week (9)

| | |
| --- | --- |
| 11 | |

Houston Rockets

Clint Capela-Dwight Howard frontcourt lineups make me sad. I think I love spacing too much.

Last Week (10)

| | |
| --- | --- |
| 12 | |

Indiana Pacers

Myles Turner is the TRUTH. No, not Paul Pierce. Turner is just really good. The Pacers, on the other hand, could be headed for another lottery appearance.

Last Week (11)

| | |
| --- | --- |
| 13 | |

Portland Trail Blazers

Before the season, I predicted the Blazers would win 22 games and finish last in they're division. They have already won 24 tilts and are second in the Northwest sector. I expect to receive my termination papers any day now.

Last Week (12)

| | |
| --- | --- |
| 14 | |

Chicago Bulls

Sad Bulls offense is sad.

Last Week (12)

| | |
| --- | --- |
| 15 | |

Dallas Mavericks

At some point the Mavericks offense will fix itself, right? RIGHT?

Last Week (14)

| | |
| --- | --- |
| 16 | |

Miami heat

Miss you, Tyler Johnson.

Last Week (15)

| | |
| --- | --- |
| 17 | |

Utah Jazz

Utah ranks second in defensive efficiency since the return of Derrick Favors, according to NBA.com. Go figure.

Last Week (21)

| | |
| --- | --- |
| 18 | |

Sacramento Kings

Who plays faster than the Kings?

Nobody.

No, seriously, they rank first in possessions used per 48 minutes, championing a frenetic pace that can be, at times, difficult to follow.

Last Week (17)

| | |
| --- | --- |
| 19 | |

Charlotte Hornets

Michael Kidd-Gilchrist is back on the court, way ahead of schedule. If I'm the NBA, I immediately test to see if he's, you know, an actual human life form.

Last Week (16)

| | |
| --- | --- |
| 20 | |

Washington Wizards

Think Kevin Durant will tell the Wizards before the trade deadline there's no chance in hell he's signing with them, this way they can start the process of moving on from that pipe dream and fixing their underachieving roster, or nah?

Last Week (21)

| | |
| --- | --- |
| 21 | |

New York Knicks

Watching the Knicks is beyond frustrating. They're a defensive turnstile, and it's becoming increasingly clear that the offense—triangle, square, trapezoid, whatever—would look like absolute shit without Carmelo Anthony.

Last Week (20)

| | |
| --- | --- |
| 22 | |

Denver Nuggets

Head coach Mike Malone is high on Nikola Jokic—so much so that he wouldn't trade the rookie center for anyone, and he pretended not to remember the names of Kristaps Porzingis or Karl-Anthony Towns.

Last Week (22)

| | |
| --- | --- |
| 23 | |

New Orleans Pelicans

Update: Still want to see more Toney Douglas-Jrue Holiday backcourt lineups.

Last Week (23)

| | |
| --- | --- |
| 24 | |

Orlando Magic

With the playoffs fast becoming an unobtainable goal, I'd like to see the Magic experiment with Aaron Gordon at center and Tobias Harris at the 4.  Surrounding them with two shooters and Victor Oladipo, not Elfrid Payton, feels like it could make for a deadly all-everything combination.

Last Week (24)

| | |
| --- | --- |
| 25 | |

Milwaukee Bucks

Milwaukee's four other starters with Greg Monroe, according to NBA.com: minus-6.1 points per 100 possessions.

Milwaukee's four other starters with John Henson: plus-29.3 points per 100 possessions.

Food for thought.

Last Week (26)

| | |
| --- | --- |
| 26 | |

Philadelphia 76ers

There's something I need to get off my chest: I'm over Ish Smith. Please don't hate me.

Last Week (27)

| | |
| --- | --- |
| 27 | |

Brooklyn Nets

If the Nets' pick that the Celtics own turns into Ben Simmons, Brooklyn should be relegated.

Last Week (28)

| | |
| --- | --- |
| 28 | |

Minnesota Timberwolves

This is what happens when you lose to the Lakers.

Last Week (25)

| | |
| --- | --- |
| 29 | |

Los Angeles Lakers

Either every single one of Byron Scott's sound bites are delivered out of context, or the Lakers' head honcho is seriously, troublingly, wholly out of touch with reality.

Last Week (29)

| | |
| --- | --- |
| 30 | |

Phoenix Suns

Shoutout to the Suns for firing Jeff Hornacek, even though he, along with Devin Booker and Eric Bledsoe, was one of the only good things they had going for them.

Last Week (30)