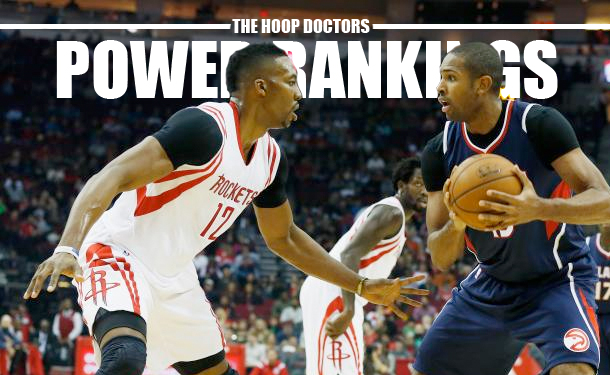 Last time we met, we were preparing for the NBA's All-Star break. And, well, we're still on that gosh darn All-Star break.
The NBA returns to action on Thursday, Feb. 18. Incidentally, that's the same day as the league's trade deadline. I'm sure that won't be a chaotic time at all. It will be totally easy and breezy and bereft of any activity whatsoever.
Not.
This is your look at where every team stands entering that deadline, as they prepare to finish out the regular season. There hasn't been a ton of movement because, again, games haven't been played. But trades, trade rumors and injuries have helped reshape the weekly landscape.
Everyone have their trade-deadline pants on?
Good.
Let's party.
***For a week by week list of all our NBA Power Rankings this season, please visit this page.
NBA Power Rankings
| | |
| --- | --- |
| 1 | |

Golden State Warriors

You. Can. Not. Beat. This. Team.

Last Week (1)

| | |
| --- | --- |
| 2 | |

San Antonio Spurs

Chances of the Spurs being active at the trade deadline are slim to unfathomably slim to SHUT THE FUCK UP WHY ARE YOU EVEN TALKING ABOUT THIS.

Last Week (2)

| | |
| --- | --- |
| 3 | |

Oklahoma City Thunder

Oklahoma City missed out on Courtney Lee, which is a shame. It would be less of a shame if Billy Donovan let Anthony Morrow see the floor more.

Last Week (3)

| | |
| --- | --- |
| 4 | |

Cleveland Cavaliers

Please, oh please, let Ben McLemore get traded to the Cavaliers for a ball of yarn, some lint and J.R. Smith's favorite playlist.

| | |
| --- | --- |
| 5 | |

Toronto Raptors

I'm not against the Raptors trading for another power forward. It just better be Channing Frye or Ryan Anderson and not Kenneth Faried or Markieff Morris.

Last Week (5)

| | |
| --- | --- |
| 6 | |

Los Angeles Clippers

So has anyone heard anything about Blake Griffin's future in Los Angeles lately?

Last Week (6)

| | |
| --- | --- |
| 7 | |

Boston Celtics

If Gregg Popovich didn't exist, Brad Stevens would win Coach of the Year.

Also, is Al Horford a Celtic yet?

Last Week (7)

| | |
| --- | --- |
| 8 | |

Detroit Pistons

Tobias Harris is a good fit for the Pistons. If he can regain last year's spot-up form, he'll be the ideal Stan Van Gundy power forward. What's more is I'm fairly certain the Pistons can still carve out $20 million-plus in cap space this summer.

Cha-ching!

Last Week (10)

| | |
| --- | --- |
| 9 | |

Utah Jazz

Word on the Twittersphere is that the Jazz are most definitely not trading for Jeff Teague. This makes me sad.

Last Week (8)

| | |
| --- | --- |
| 10 | |

Atlanta Hawks

Please blow it up, Hawks. I say this not because you need to, but in the name of an interesting trade deadline.

Last Week (9)

| | |
| --- | --- |
| 11 | |

Indiana Pacers

Is it wrong that I think the Pacers are a Knicks and Wizards hot streak away from falling out of the playoff picture?

Last Week (11)

| | |
| --- | --- |
| 12 | |

Portland Trail Blazers

Terry Stotts deserves some Coach of the Year dap, too.

Last Week (12)

| | |
| --- | --- |
| 13 | |

Dallas Mavericks

Kind of surprised the Mavericks haven't weaseled their way into the Dwight Howard (not-a-)sweepstakes with an offer of Wesley Matthews and Zaza Pachulia. Maybe Mark Cuban and Daryl Morey do hate each other that much.

Last Week (14)

| | |
| --- | --- |
| 14 | |

Charlotte Hornets

Courtney Lee is a necessity in the wake of Michael Kidd-Gilchrist's latest injury. He also makes the Hornets offense even more interesting.

Last Week (17)

| | |
| --- | --- |
| 15 | |

Memphis Grizzlies

Kudos to the Grizzlies for preserving their playoff window without Marc Gasol by acquiring Brian Roberts, P.J. Hairston and Chris Andersen.

Shame on them, though, for doubling down on a model that just isn't working.

Last Week (15)

| | |
| --- | --- |
| 16 | |

Washington Wizards

Is it also wrong that I'm suddenly feeling good about the Wizards?

Last Week (19)

| | |
| --- | --- |
| 17 | |

Houston Rockets

What in tarnation are the Rockets trying to do this season? Gun for the playoffs? Act as deadline sellers? Both?

Asking for a friend.

| | |
| --- | --- |
| 18 | |

Miami Heat

This Chris Bosh blood clot news is awful. Hopefully he's Ok.

On a basketball note, the Heat are screwed without him.

Last Week (16)

| | |
| --- | --- |
| 19 | |

Chicago Bulls

My Fred Hoiberg crush that dates back to his time at Iowa State is waning.

Last Week (18)

| | |
| --- | --- |
| 20 | |

Denver Nuggets

Doc Rivers apparently tried to get Nikola Jokic, Will Barton, Danilo Gallinari and Kenneth Faried in exchange for Blake Griffin and Lance Stephenson.

Here's how that conversation most definitely went:

Nuggets GM Tim Connelly: Hello?

Doc: Tim, I can trade you Blake.

Tim: For?

Doc: Jok—

*click*

Doc: Hello? Tim?

Last Week (20)

| | |
| --- | --- |
| 21 | |

Milwaukee Bucks

Milwaukee seems to be regaining some of last season's swagger. Will it be enough to get them back in the playoff picture?

(Spoiler: No.)

Last Week (21)

| | |
| --- | --- |
| 22 | |

Sacramento Kings

Here's hoping Vlade Divac does something insane at the trade deadline.

Last Week (22)

| | |
| --- | --- |
| 23 | |

Minnesota Timberwolves

Something I didn't know until recently: Ricky Rubio has never even shot 39 percent from the floor for an entire season.

I mean, wow.

Last Week (24)

| | |
| --- | --- |
| 24 | |

New York Knicks

Kurt Rambis is going to turn the Knicks around coming outside the All-Star break and they're going to make the playoffs and give the impression that they're a fully functioning, ready-made contender.*

*I'm lying.

Last Week (25)

| | |
| --- | --- |
| 25 | |

New Orleans Pelicans

Whatever it takes the Pelicans to dump Omer Asik, even if it's a tightly protected first-rounder, they really need to do it.

Last Week (26)

| | |
| --- | --- |
| 26 | |

Orlando Magic

Am I overreacting to the Magic trading Harris for Ersan Ilyasova and Brandon Jennings? Perhaps, but OMFG HOW COULD THE MAGIC TRADE HARRIS FOR JENNINGS AND ILYASOVA.

Last Week (23)

| | |
| --- | --- |
| 27 | |

Philadelphia 76ers

Nerlens Noel deserves some Defensive Player of the Year consideration. Just saying.

Last Week (27)

| | |
| --- | --- |
| 28 | |

Brooklyn Nets

Update: I still miss Rondae Hollis-Jefferson.

Last Week (28)

| | |
| --- | --- |
| 29 | |

Los Angeles Lakers

Does anyone know if Byron Scott is trying to get the Lakers to trade D'Angelo Russell, Julius Randle and Jordan Clarkson for Paul Pierce yet?

Last Week (29)

| | |
| --- | --- |
| 30 | |

Phoenix Suns

It makes sense that the Suns haven't yet traded Markieff Morris.

Oh, wait, no it doesn't.

Last Week (30)