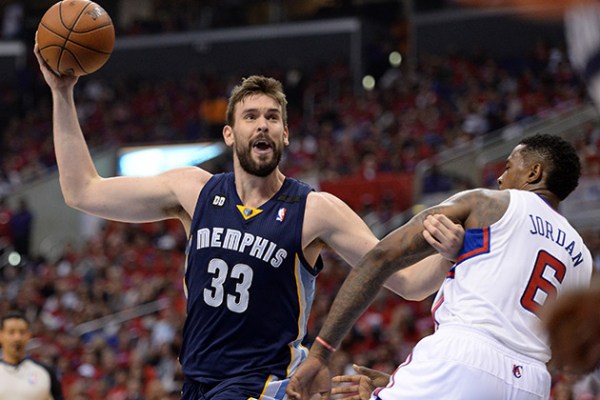 Marc Gasol, in all likelihood, has played his last game this season.
Word came down on Wednesday that the 31-year-old big man suffered a broken right foot and would be sidelined indefinitely. Here's more from ESPN.com's Marc Stein:
Memphis Grizzlies center Marc Gasol will be sidelined indefinitely with a broken right foot, the team said in a statement Tuesday.

"Marc is a cornerstone of our franchise, and we are focused on getting him healthy," Grizzlies general manager Chris Wallace said in the release. "Marc will be out indefinitely and a further update will be provided after the All-Star Break."
An indefinite timetable implies Gasol could return this season, and perhaps that's a possibility. But the Grizzlies need to be smarter than that even if he can return. They are underachieving this year as it is, and there's no point rushing him back so that they can suffer another first- or second-round playoff exit. Gasol is under contract for four more years after this season; Memphis needs him for the long run just as much as it needs him now.
Benching him for the rest of the year could destroy the Grizzlies' playoff hopes. Five games stand between them and lottery territory with 29 left to play. They're one extended free fall away from dropping out of the West's postseason bracket.
Still, the Grizzlies have some options. They are more than two points better per 100 possessions with Gasol on the floor than with him off, according to NBA.com, but the defense goes statistically unchanged whenever he sits. So their biggest concern actually comes on the offensive end, where they're both light on playmaking and spacing.
And yet losing Gasol gives the Grizzlies more of an opportunity to run small. Zach Randolph has statistically held his own at center in each of the last two seasons, and his passing acumen rivals that of Gasol. It hurts that the Grizzlies don't have a stretch 4 other than Jeff Green—who doesn't stretch much of anything—but they might be able to buy one cheap ahead of the trade deadline. At the very least it won't be as hard for Jeff Green to drive when two bigs aren't clogging up the lane.
None of which means the Grizzlies are better off without Gasol. It just means that they have a chance to keep up their current level of play without him. And while that won't be anywhere near good enough to contend for a title, it's enough to keep this season from devolving into a complete and utter lost cause.