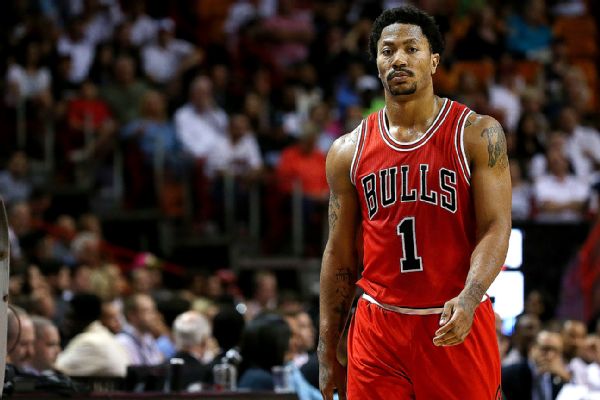 Derrick Rose is playing like an MVP candidate again, and the Chicago Bulls hope it lasts.
Nay they need it to last.
Jimmy Butler and Nikola Mirotic remain on the shelf, and Joakim Noah is done for the season. The offense hasn't been as potent as advertised, and Chicago is a heartbeat away from slipping into the lottery.
But after dropping their first game outside of the All-Star break, the Bulls have rattled off two straight victories against the Toronto Raptors and Los Angeles Lakers. Rose's improved offensive play is at the heart of this miniature streak. He has topped 20 points in each of Chicago's post-All-Star-tilt games, even shooting 50 percent from beyond the arc during that time.
Naturally, he's feeling pretty good, per Nick Friedell of ESPN.com:
Six words encapsulated what it has been like watching Derrick Rose play over the past two months.

"I just feel like I'm back," Rose said.

"I'm just out there playing. Whatever I can do to get my team a victory that's what I'm going to try to do. When I'm out there they're giving me midrange [shots], they're giving me drives to the lane. Just mixing up my game and trying to play a solid game while I'm out there."
Can he keep this up?
That's the question.
It's always been the question, the same inquiry that's dogged him since he tore his ACL in 2012. He has yet to put together a superstar-level stretch that spans one-quarter of a season, and that's, justifiably, given way to doubt and extreme skepticism.
Now, with the Bulls battling for their playoff lives, as Butler rehabs his knee, Rose has the opportunity to leave a lasting impression that could, realistically, change the way we view him.