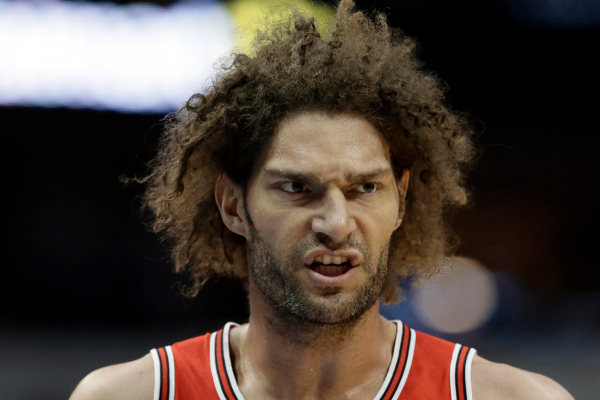 According to Chris Haynes of Yahoo Sports, the Chicago Bulls will not negotiate a buyout with Robin Lopez despite the player's representatives engaging the front office about an exit strategy since December.
The Bulls are exploring trade options for Lopez's expiring $14.4-million contract, as opposed to losing the 7-footer for nothing.
Haynes reports that Lopez has not personally approached management about his future.
"I'm not heavily involved in (buyout talks) because I try to stay focused in on the day to day," Lopez said. "My (agent) keeps me informed of the bigger bullet points, abreast of the more important news."
Assuming a trade doesn't happen prior to February 7th, the next important date is March 1st. That's the last date players can sign with teams and be eligible for playoff rosters. In the event that Lopez is with the Bulls after the trade deadline, it would make sense for the Bulls to waive him and let him sign somewhere, presumably Golden State.
"I think it's an appealing situation for just about anybody in the league," Lopez said of the Warriors. "You go there, they share the ball, they play defense, they play the right way. But right now, that's something we're aspiring to do here. And there's a certain joy in trying build a culture like that, and I appreciate being a veteran in that position of helping shepherd a team toward that point."
Lopez is averaging 5.6 points and 2.5 rebounds through 36 appearances in 2018-19.