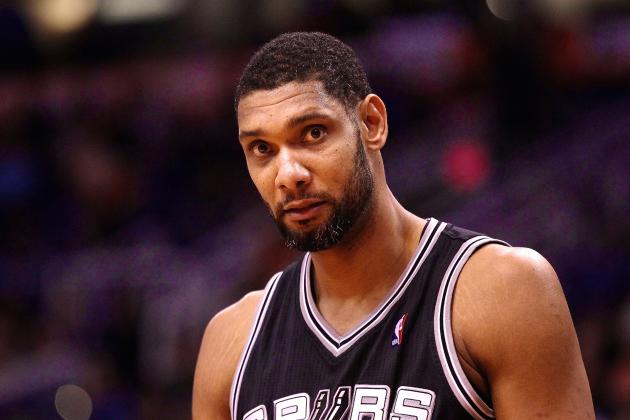 Already missing Tim Duncan?
You might want to get accustomed to that feeling.
Duncan has missed the San Antonio Spurs' last two games and three of the last four overall with right knee soreness. He has undergone an MRI, but head coach Gregg Popovich has no idea when the 39-year-old will return, per the San Antonio Express-News' Melissa Rohlin:
Spurs Coach Gregg Popovich said Duncan underwent an MRI, and has been both actively rehabilitating his knee and trying to rest it.

When asked if the MRI revealed anything concerning, Popovich joked that he's doesn't have the medical knowledge to make that assessment.

"They're rehabbing him and doing what they do," Popovich said. "Unlike you, I'm not the doc, they just tell me when he's ready to go.
The latest goes beyond Pop sitting Duncan just because, but the Spurs don't appear worried. If the playoffs were underway, my guess is Duncan would be playing.
Plus, even if he wasn't playing, the Spurs have little reason to worry.
Duncan once again belongs in the conversation for Defensive Player of the Year honors, and the team is much better with him on the floor overall, but the Spurs still post what would be, per Basketball-Reference, a top-two net rating when he is on the bench.