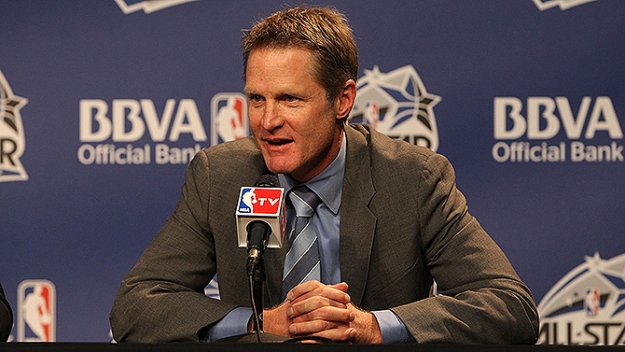 The Golden State Warriors are winning like crazy without head coach Steve Kerr on the sidelines, which is good, because they still don't know when he'll actually be on the sidelines.
An all-time start to the season has overshadowed Steve Kerr's absence as he continues to deal with and recover from complications that arose after having back surgery. The Warriors are overwhelming title favorites again. They have a chance to challenge the 1995-96 Chicago Bulls for the league's best-ever record. They look like they'll go down as the best team the NBA has ever seen.
All of this is happening without Steve Kerr. It's common knowledge that he attends certain practices, and he has been on-sight for some games. But it's Luke Walton who is presently charged with the well-being of Kerr's basketball masterpiece, and from the looks of things, that's not about to change anytime soon.
Per Bay Area News Group's Diamond Leung:
Warriors coach Steve Kerr said Tuesday he continues to experience symptoms following two offseason back surgeries and his return from his leave of absence remains indefinite.

"I've made some improvement, but unfortunately, there's no timetable," Kerr said by phone from the Bay Area.

"Physically, my back is better. My body is stronger, but I'm still getting headaches."

Kerr said that while he has attended most of the Warriors' practices in Oakland, doing so also made it clear to him that he was not ready to return to the bench.

"I'll know when I'm ready," he said.
Over the course of the Warriors' historic start, Walton and the players haven't been shy about doling out praise to Kerr. The should-be sophomore head coach, who is still being credited with each of Golden State's victories, has installed a system and culture that transcends his presence. And that's truly remarkable.
We talk a lot about how coaching doesn't matter, and the Warriors' blistering beginnings sans Kerr would seem to validate that slant. But remember, this Warriors team is nearly identical to the squad that Kerr took over last season. He turned a good team into a great team, and that great team is now becoming a unit for the ages. This, without question, does not happen without Kerr.
That the Warriors are still without Kerr, though, leads to another point: This isn't about basketball anymore.
Steve Kerr has been out for quite some time, and though he appears to be in good spirits whenever commenting to the media, his prolonged absence is beyond unfortunate. His return to the sidelines matters, make no mistake, but only insofar as it means that Kerr the person is healthy and all-around okay again.